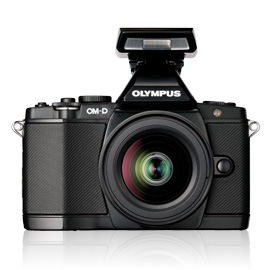 Yesterday, Olympus stepped into the retro design game with a brand new line of micro 4/3 cameras, the OM-D.
Very different from the modern-looking PEN series, this new mirrorless cameras revives the design of the 1970s-era OM system while sporting the latest technology available from Olympus, such as a 16-Mpix sensor (with the best resolution in this line) and HD video 1080p at 30 fps, among many other features.
Here are our first hands-on impressions.