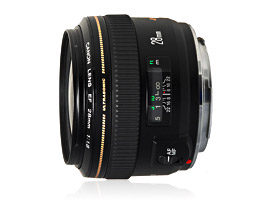 Even though it appeared in Canon's lineup in 1995, the Canon EF 28mm F/1.8 is one of the most recent wide-angle prime lenses for full-frame cameras. Built around 10 elements in 9 groups with one aspherical element, this lens feels pretty solid in hand. Its ultrasonic motor (USM) makes it very silent and quick to focus. In terms of image quality, the Canon EF 28mm F/1.8 provides a really good value for money.
Measurements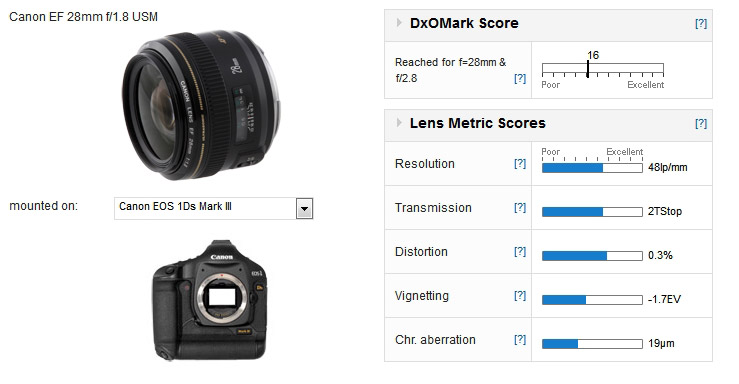 The strong points of the Canon EF 28mm f/1.8 USM:
Good sharpness in the center (but falls off rapidly at the edges).
A bright lens.
Reasonable distortion (slight mustache).
Vignetting acceptable for this kind of lens.
The debatable points of the Canon EF 28mm f/1.8 USM:
Visible chromatic aberrations.
Comparison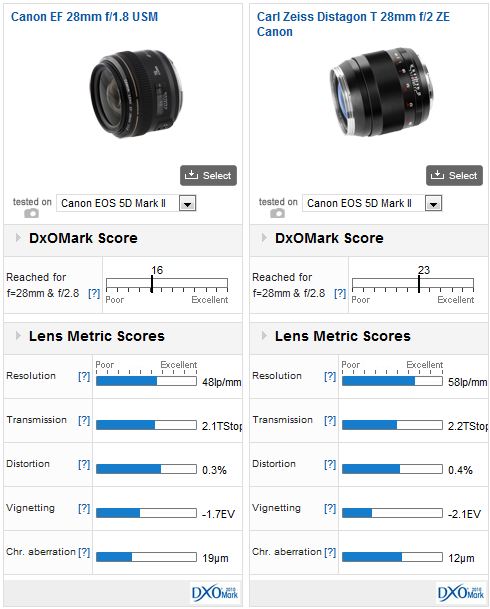 The advantages of the Canon EF 28mm f/1.8 USM:
Slightly brighter (around 0.13EV) than the Zeiss lens.
Better-controlled distortion.
Less light fall-off in the corners.
The lightest and most compact lens.
USM autofocus.
The advantages of the Carl Zeiss Distagon T 28mm f/2 ZE Canon:
Better sharpness.
Better correction of chromatic aberrations.
Superior mechanical construction.
Circular aperture.
If you own an APS-C camera, the Sigma 30mm 1.4 should be considered too. Here is the comparison :
At wider aperture (f/1.8 for Canon, f/1.4 for Sigma), the Canon 28mm is significantly sharper
Above f/5.6, resolution results are pretty close.
Vignetting is better controlled by the Canon lens
Chromatic aberration is slightly better controlled on the Sigma lens.
Conclusion
In summary, on a full frame, the Canon EF 28mm 1.8 ZE is a nicely bright wide angle lens. And on an APS-C, it is a good and affordable versatile lens, with its focal length equivalent to 45mm. For example, for approximately the same price (470 $ for the Canon 28mm and 440 for the Sigma 30mm), the Canon 28mm f/1.8 is slightly better than the Sigma 30mm F1.4