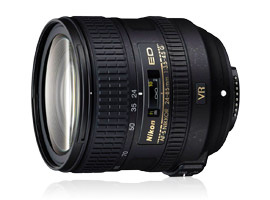 A middle-of-the-line lens, the AF-S Nikkor 24-85mm f/3.5-4.5G ED VR integrates an ED glass lens and three aspherical lenses, as well as a coating against flare. Its focal-length range extends from wide-angle to traditional lengths for taking portraits. The autofocus is driven by an ultrasonic (SWM) motorized internal focus (IF design). This lens's lightness (465 grams) is particularly appreciated as a counterweight (so to speak) to the 830 grams of the APS-C reflex trans-standard lens announced at the same time, the AF-S DX Nikkor 18-300mm f/3.5-5.6G ED VR.
Price and availability
The 24-85mm FX is being offered at 599 euros, an attractive enough sales price that may be a precursor to a medium-format camera that will be a bit more accessible to everyone than the D800.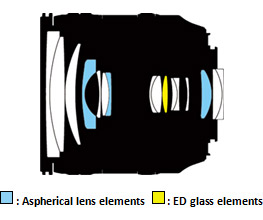 Principal characteristics
Focal length: 24–85mm
Zoom range: 3.5x
Maximum aperture: f/3.5–4.5
Nikon VR lens image stabilization
Circular diaphragm with 7 leaves
3 aspherical lenses
1 ED glass element
SWM ultrasonic motor and IF design
Minimum focus distance: 38cm at all focal lengths
Maximum reproduction ratio: 0.22x
Filter diameter: 72mm
Lens diameter: 78mm
Lens length: 82mm
Weight: 465 grams
Price: 599 euros (tax included)