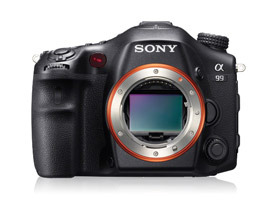 After evaluating the performance characteristics of lenses mounted on full-frame models such as Nikon D800 and D600, as well as the Canon EOS 5D Mk III, we've now had the opportunity to analyze a range of lenses on the Sony SLT-A99. In this concise report, we'll see how well the combination of Sony's high-end image sensor and the latest Alpha mount lenses perform.
Sony SLT Alpha 99 and its lens: A mount lens database overview
With the introduction of SLT models featuring the novel 'translucent' mirror technology, Sony were the first to break with the traditional reflex mirror and optical pentaprism found in rival SLR systems. As well as adopting an electronic viewfinder, the novel system utilizes a semi-transparent mirror (or "Translucent" mirror, as Sony calls it), which remains in the lens' light path. Fixed "pellicle' mirrors aren't new of course, the partially silvered mirror allows for conventional viewfinder based phase-detection AF and metering systems to be retained.
In fact, this system allows for full-time continuous phase-detection AF (PDAF) during live view and video capture. As successor to the A900 DSLR, the SLT-A99 stands-out as the first full-frame model from the firm to move to an electronic viewfinder and the first to supplement the viewfinder AF system with a second 102-point PDAF-assist sensor array overlaying the 24.3-MPix CMOS sensor. As well as the option to capture 14-bit RAW files, the camera also adopts what the firm describes as 'newly developed multi-segment OLPF' designed to enhance the sensor's resolving power.
As promising as all this sounds, the sensor is only a part of the imaging chain and the image quality will inevitably vary across different lens models. The aim of this concise guide is to assist the reader in choosing the most appropriate lens for the camera based on optical performance, while being mindful of the price. We've tested the Alpha 99 with 22 different A-mount lens models (primes as well as zooms) with a range of focal lengths encompassing 16mm to 500mm, including Sony made lenses and those from third parties. Listed below are some of the lenses we've analyzed. We've performance data on some of the latest models but we've also included information from a few of the older Konica Minolta lenses that can be found used at competitive prices:
Sigma 105mm F2.8 EX DG OS HSM Macro Sony
Sony 300mm F2.8 G SSM II
Sony 50mm f/1.4
Tamron SP 24-70mm F/2.8 Di USD Sony
Konica Minolta AF 28-100mm f/3.5-5.6 (D)
Konica Minolta AF 28-75mm f/2.8 (D)
Tamron SP AF 28-75mm F/2.8 XR Di LD Aspherical [IF] Sony
Carl Zeiss Distagon T* 2/24 ZA Sony