The annual CP+, or Camera and Photo Imaging Show, takes place in Japan, the heartland of the photography hardware industry. With new lenses covering wide-angle through to extreme super-telephoto and options for all the different Interchangeable lens mounts and camera systems, this year's show, seemed to be all about new glass for your cameras in 2013. We pick out and preview 11 lenses that caught our eye.
Tokina AT-X 70-200mm f/4 PRO FX VCM-S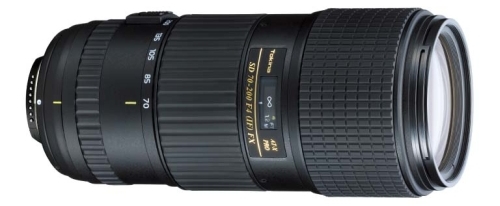 Compatible with Full Frame and APS-C formats where it offers an equivalent 105-300mm focal length the maximum f/4 aperture is fixed through the focal range. This 3rd party telephoto zoom also offers Image Stabilisation and an Ultrasonic autofocus motor, although it doesn't appear to feature a lens collar. Lens mounts and pricing are still be announced but no doubt they'll include Canon & Nikon fits to challenge own brand options such as the Canon EF 70-200mm f/4L IS USM and Nikon AF-S 70-200mm f/4G ED VR.
Key Specifications
Tokina AT-X 12-28mm f/4 PRO DX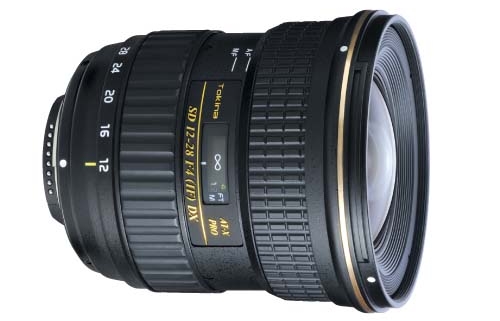 Intended as a replacement for the existing Tokina 12-24mm f/4 AT-X Pro this new wide-angle zoom for APS-C cameras offers a slightly longer focal length, the same f/4 fixed maximum aperture, but no Image Stabilisation. Tokina's 'one-touch focus clutch mechanism' for quickly switching between AF and MF is included however and as the AT-X range is Tokina's professional offering expect decent build quality to rival own brand options such as the Nikon 12-24mm f/4G ED-IF AF-S DX or Canon EF-S 10-22mm f3.5-4.5 USM.
Key Specifications
Nikon AF-S 18-35mm f/3.5-4.5G ED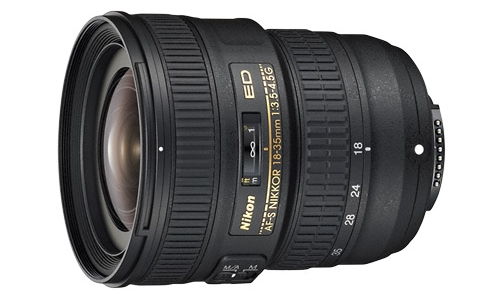 Designed for the Full Frame Nikon FX lens mount the 18-35mm focal length offers a useful wide-angle zoom or attached to Nikon APS-C DSLRs the equivalent focal length is 27mm – 52.5mm. The maximum aperture is variable f/3.5 – f/4.5, features Nikon's Silent Wave Motor for quiet AF and quick manual focus override is possible with M/A autofocus Mode. Nikon also state this lens has been optimised for use with high resolution DSLRs such as the D800. We'll be testing this soon so check back for our Lens Metric Scores and see how well it performs.
Key Specifications
Nikon AF-S 800mm f/5.6E FL ED VR

Designed for professional Sports, Wildlife and News photographers the 800mm focal length makes this the 'longest' lens in the Nikon line up. If 800mm isn't enough for you the supplied x1.25 teleconvertor extends its reach to a massive 1000mm and alters the lens's maximum aperture from f/5.6 at 800mm to f/7.1 at 1000mm. Used on Nikon FX DSLRs such as the D4, D800 and D600 however full autofocus performance with the teleconvertor attached and the expected price tag will around a whooping $17,995!
Key Specifications
Sigma 19mm f/2.8 DN (A | Art)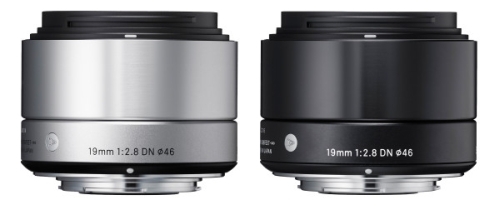 Sigma are organising their various lines of lenses into 3 product lines, Contemporary, Art and Sports to help simplify choices for consumers. According to Sigma the Art range is designed with focus of sophisticated optical performance and expressive power. The 19mm f/2.8 DN offers a wide-angle equivalent focal length of 38mm attached to Micro Four Thirds bodies and 28.5mm on the Sony E Mirrorless System.
Key Specifications
Sigma 60mm f/2.8 DN (A | Art)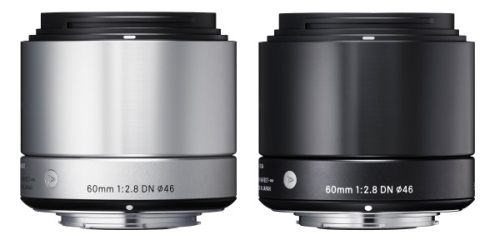 Sigma latest line of third party lenses is their DN range for use on Mirror less Hybrid Cameras. Compatible with Olympus and Panasonic Micro Four Thirds as well as Sony E Mount cameras the 60mm f/2.8 DN is the longest focal length lens in the Sigma DN line up and offers and equivalent 120mm focal length on Micro Four Thirds and 90mm on Sony camera's. It comes in a choice of either black or silver, so you can match it to your camera body, and will come supplied with both a lens case and hood.
Key Specifications
Sigma 30mm f/2.8 DN (A | Art)

Another DN lens for Hybrid cameras the Sigma 30mm f/2.8 DN offers an equivalent 60mm focal length on Micro Four Thirds hybrid cameras such as the Panasonic GH3 or Olympus OM-D and a wider 45mm on the Sony E mount system. The standard to slight telephoto focal length and maximum f/2.8 aperture make it an ideal option for portrait, low-light and general photography and again it's available in either silver or black.
Key Specifications
Sigma 30mm f/1.4 DC HSM (A | Art)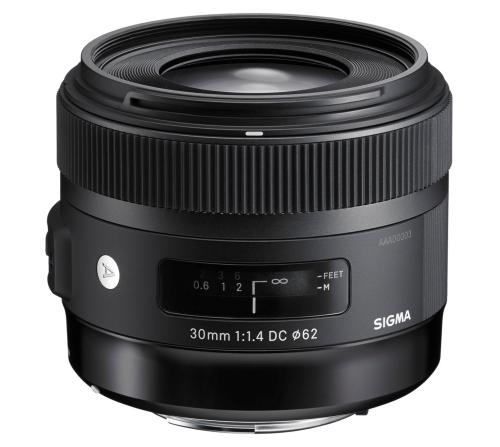 Sigma's DC range produce the smaller image circle optimised for use on APS-C DSLRs and as such aren't compatible with full frame cameras. This lens's large f/1.4 maximum aperture is great for creative effects or low-light photography, Sigma's HSM motor ensures quick and quite AF on all DSLRs and with a rear focusing system means the front element doesn't move making it more friendly to use with polarizing filters. The minimum focusing distance of 30cm is ideal for close-up photography and come supplied with a case and petal-type lens hood.
Key Specifications
Olympus M.ZUIKO DIGITAL ED 75-300mm F4.8-6.7 II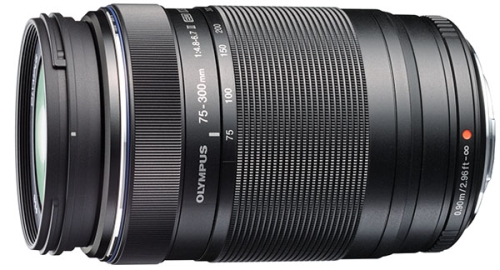 This super-telephoto zoom offers an equivalent focal length of 150mm to a staggering 600mm equivalent focal length. Despite the vast focal length it's a relatively light and compact option in keeping with Olympus Micro Four Thirds cameras like the PEN series and OM-D. Updated from the previous version launched in 2010 the latest model features a new ZERO (Zuiko Extra-low Reflection Optical) Element for improved performance in back-lit environments.
Key Specifications
Panasonic LUMIX G VARIO 14-42mm / F3.5-5.6 II ASPH / MEGA O.I.S.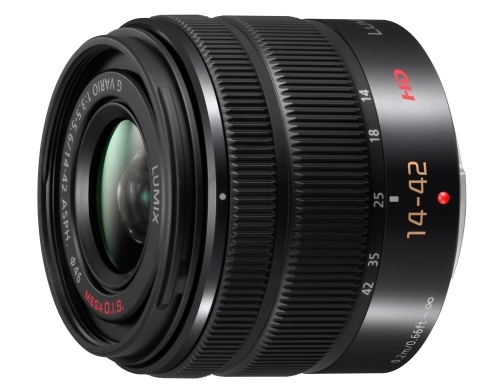 An updated version of the Panasonic kit lens for Micro Four Thirds this latest model features an Inner Focus System and Stepping Autofocus Motor for quiet AF during video capture. With a 28-84mm equivalent focal length it's a good option for all round general photography and Panasonic lens based Image Stabiliser will help in low-light. The minimum 20cm focus distance makes tight close-ups a possibility and weighing just 110g in wont weight you down either.
Key Specifications
Tamron 14-150mm F/3.5-5.8 Di III VC (Model C001)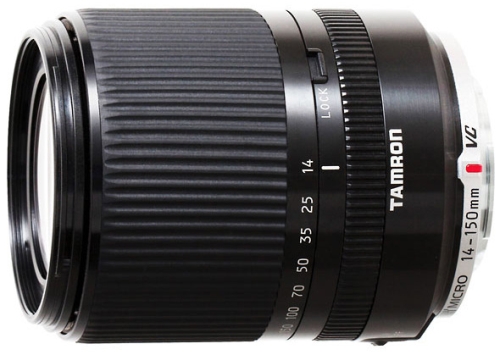 Completing the CP+ lenses line up is another telephoto super-zoom for the Micro Four Thirds system. The 3rd party offering offers an equivalent 28-300mm equivalent focal length making it a versatile option for holidays and photography day trips. Featuring a Stepper Autofocus motor for quite AF during video capture it should be popular with the videographers and Tamron's Vibration Reduction system allows for slow shutter speeds shooting at the maximum 300mm equivalent focal length and hand holding the camera.
Key Specifications