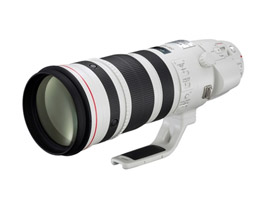 First seen at the Olympics in London in 2012, the Canon EF 200-400mm f/4 IS USM Extender 1.4x is a pro-oriented super-telephoto zoom with a built-in 1.4x tele-converter. Engaging this extender converts the zoom into a 280-560mm f/5.6 on a full frame camera, making this one of the most versatile lenses in the firm's line up. Read on to see how well this $11,800 zoom performs with- and- without the 1.4x converter engaged while mounted to the Canon EOS 5D Mk III.
Although Canon announced the lens' development in February 2011, subsequently showing a prototype at CP+, Yokohama Japan, working models were first 'seen' during the London Olympics in 2012 before being only officially announced recently in May 2013. At $11,800, the lens is unashamedly targeting professionals and well-heeled enthusiasts looking to use it for sports and wildlife.
Without the extender in place the new lens achieves a DxOMark score of 24 points, dropping to 17 points with in place which is good for a telephoto-zoom but still behind less extreme models.
The lens is placed 3rd, and 11th respectively in our database rankings for Sharpness (measured in P-MPix)