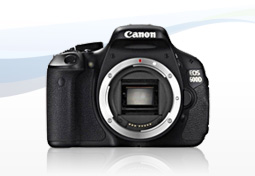 The EOS 600D looks much like the EOS 550D, which, however, it does not replace. Both bodies will remain in Canon's lineup. The 600D utilizes most of the 550D's hardware features, including its 18-megapixel sensor; it adds an articulated screen, along with the "beginners" functions and creative filters first seen on the EOS 60D. In a way, the EOS 600D results from the fusion of the EOS 550D and the EOS 60D.
Its price positioning makes it hard for the EOS 600D to find a competitor for the time being. The new Pentax K5 and Nikon D7000 are still much more expensive in shops. But although aging, we will use the D5000 as a challenger to the new EOS 600D, along with the Alpha 55, one of Sony's recent "enthusiast" DSLR bodies.
Finally, we will spend some time studying the differences, if any, between Canon's midrange lineup (600D and 550D).