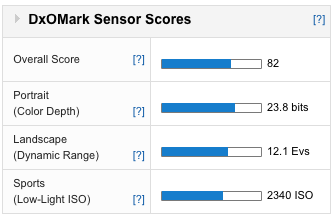 An overall score of 82 is very good for Canon, but is still a little way below the best from Nikon.
An overall DxOMark score of 82 put the EOS 6D right at the top of the tree in terms of Canon cameras, matching the score produced by the flagship EOS-1D X. In the sensor rankings, it ties with the Nikon D3s and the medium format Pentax 645D. However, this does only rank it around 10th, a fair way below the current top rated camera, the Nikon D800E that managed a score of 96.
Looking at the scores in detail, we can see the main weakness of the current round of Canon sensors has again shown through here, that being relatively low scores in both the Portrait (Color Depth) and Landscape (Dynamic Range) scores. It's score of 23.8bit for Color Depth being 1.8bits lower than the Nikon D800E and its Dynamic Range score being 2.2EV lower. However, with that said, this sensor still provides acceptable results, especially given the price of the camera, it's only when comparing against the current best on the market that it loses out.
From a usage scenario, the EOS 6D will perform well in all areas, with the possible exception of very high contrast scenes, for example when shooting sunrise or sunset, where the Dynamic Range may affect your results.
One area where the EOS 6D does do quite well though is in the Low-Light ISO score. Here its score of 2340 ranks it 7th overall. In the Canon range, it is only outperformed by the EOS-1D X. It does show a significant improvement over previous models, as has been seen in the latest sensors from all manufacturers. Although the score is 2340 ISO, in real world usage, you will still achieve very high image quality shooting at ISO 3200 without worry. Finally on the ISO scores, as with several cameras now available, the EOS 6D offers an ISO 102,400 setting. In this case, it is only available as part of the expansion ISO settings indicating that Canon feel the image quality is not good enough for normal use. Indeed, as with all cameras currently tested, the results are very low suggesting you really should only use these settings when there is no other alternative.
Looking at the performance of the camera as a whole, while it may seem strange to talk about value for money on something that costs $2099 USD, the EOS 6D does offer great performance and a very well thought out feature set.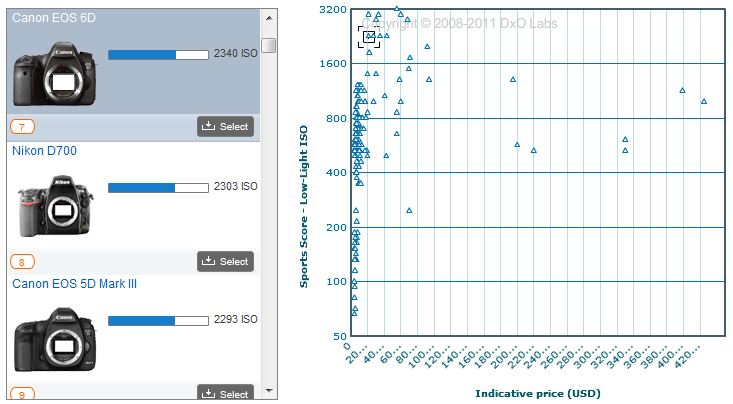 In terms of low-light performance relative to cost, the EOS 6D is only matched by the Nikon D600.
Further readings for the Canon EOS 6D review: The best value for money in the EOS range?
To provide photographers with a broader perspective about mobiles, lenses and cameras, here are links to articles, reviews, and analyses of photographic equipment produced by DxOMark, renown websites, magazines or blogs.