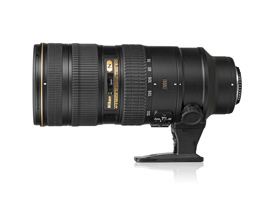 Nikon's flagship medium range telephoto lens the Nikon AF-S NIKKOR 70-200mm f/2.8G ED VR II offers a versatile focal range, great features and top-class optical quality. Costing $2,400 it's an expensive option however, and notably with cheaper alternatives like the Sigma 70-200mm f2.8 EX DGH APO HSM II and Nikon's latest f/4 version, the AF-S Nikkor 70-200mm f/4G ED VR now on the market, is this top-of-the-range lens worth the extra money?
Announced back in July 2009, the Nikon AF-S NIKKOR 70-200mm f2.8G ED VR II is an updated version of its predecessor, the Nikon AF-S NIKKOR 70-200mm f2.8G ED VR, featuring a new optical arrangement and updated image stabilization technology, known as VR II.
VR II offers up to 4-stops image stabilization to capture sharp images with relatively slow shutter speeds. This is important with a telephoto lens where magnification at 200mm means without VR II either a fast shutter speed - not always possible in low-light - or a very steady hand is required. With VR II however, slow shutter speeds such as 1/15th sec at 200mm will still achieve sharp shots, providing your subject isn't moving of course!
Designed for the Nikon full-frame FX format, the Nikon 70-200mm f2.8G ED VR II is also compatible with Nikon DX format cameras that utilise a smaller APS-C sensor. Mounted on DX cameras the x1.5 'crop factor' increases the focal length to 105-300mm, an attractive benefit for enthusiasts into sports or wildlife photography. As Nikon's flagship sports lens, it's a must have for sports pros shooting Nikon, but the versatile focal range f2.8 fixed maximum aperture and image stabilisation make it a good general lens for events, weddings, portraits and press work, too.
Costing $2,400 it's an expensive proposition however, and with cheaper alternatives, notably the $1,400 Sigma 70-200mm f2.8 EX DG APO OS HSM offering similar features or the new $1,400 Nikon AF-S NIKKOR 70-200mm f4G ED VR available, does this latest Nikon version justify its price?