Distortion: the two generations are very alike
The two generations of the 24-120mm have a very close distortion values, but the old one isa little bit better. At 24mm, the 24-120mm f/4 shows signs of barrel distortion (by approximately 1%). Distortion then disappears around 30mm. From 35mm up to the end of the zoom range, distortion is characterized by pincushion verging towards minus 1%.
Used on an APS-C sensor, the phenomenon is once again less visible. If the graph has the same shape, it is contained between +05% and –0.3% on most of the zoom range. This time the distortion disappears at 35mm and remains almost stable from 50mm (oscillating around –0.3%).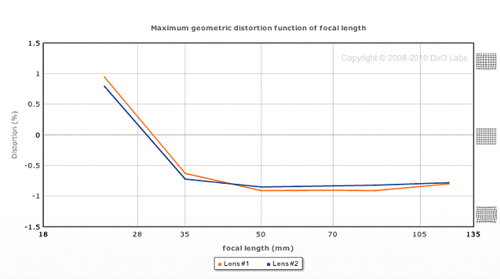 24-120mm f/4 (orange) vs 24-120mm f/3.5-5.6 on a full frame sensor (D3x): the new zoom has a little bit more barrel distortion at short focal lengths, and a bit more pincushion distortion above 50mm.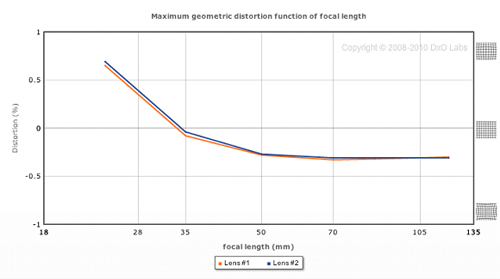 24-120mm f/4 (orange) vs 24-120mm f/3.5-5.6 on an APS-C sensor (D300s): the two lenses behave almost identically.
Further readings for the DxOMark review for the Nikon 24-120, the new constant f/4 aperture on DxOMark.
To provide photographers with a broader perspective about mobiles, lenses and cameras, here are links to articles, reviews, and analyses of photographic equipment produced by DxOMark, renown websites, magazines or blogs.

Partner reviews
|
October 24, 2010

Partner reviews
|
September 24, 2010