Meet the NEX-5, with its impressive score in our comparison database this model is among the most popular mirrorless cameras today. This time around though, it has a worthy rival that might challenge its place, reading our overall final scores could be enough to prove it.
In the final score the X100 shows a 4 point advantage over the NEX-5, it outperforms Sony's camera in all the tested fields (Portrait and Landscape).
Outstanding Sports (Low light ISO) Results
This is the test field where the X100 is noticeably better than the NEX-5:
With a 1005 ISO which is 1/3 EV better than the NEX-5 we obtain a remarkably good performance.
Let us remember that in this very field the NEX-5 had a clear advantage over micro 4/3.
This makes the X100 the best mirrorless in terms of low-light performance.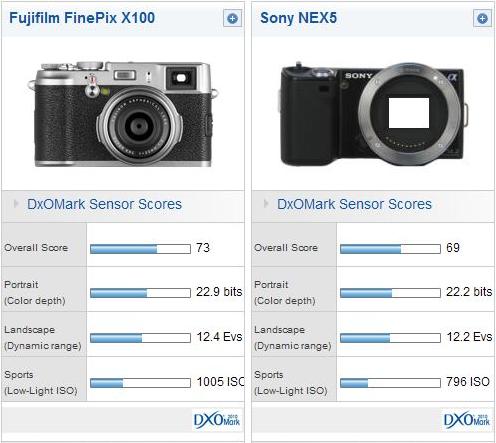 FujiFilm X100 vs. Sony NEX-5
On the SNR metrics arena, the results are good and they give a slight advantage to the X100, but in this case the gap between the two cameras is narrow.
Better Dynamic Range But Not By Much
In this field the two cameras behave very closely and trying to find a clear distinction is not easy. At ISO 200 however, the NEX-5 has a tiny advantage over the X100. Globally speaking, we can say both sensors behave similarly.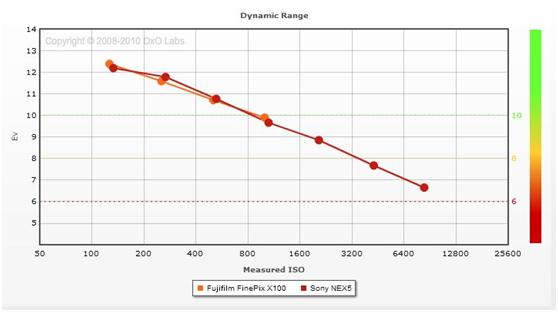 FujiFilm X100 vs. Sony NEX-5 Dynamic Range
Color Sensitivity
The main differences are in the tonal range and color sensitivity metrics, for which the X100 is always ahead, sometimes by 2/3 EV, as is the case at ISO 1600.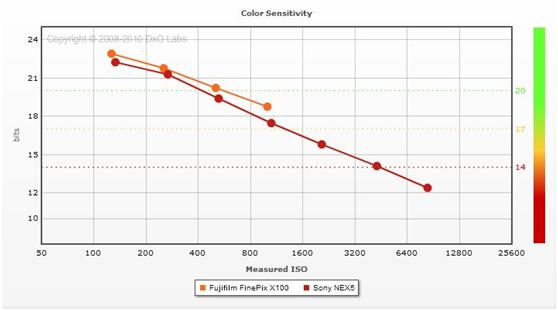 FujiFilm X100 vs. Sony NEX-5 Color Sensitivity
The metrics are clear: the NEX-5 was a great performer, but the X100 is at least as good, and often a bit better. Less noise, better color performance, and much better high ISO behavior make the difference.