It performs as well as the Nikon D90 and better than the Canon EOS 60D
Compared to meatier DSLRs, the X100 surprisingly stands its ground. Its Overall score places it at the level of a Nikon D90 and a bit above an EOS 60D. According to our tests the X100 is superior to the EOS 60D in all the DXO Mark case scores and it performs equally as well as the D90, except in the Sports score where it does slightly better.
FujiFilm X100 vs. Nikon D90 vs. Canon 60D Sensor Scores
The detailed metrics confirm our previous statements, the SNR is almost identical for the D90, the EOS 60D, and the X100.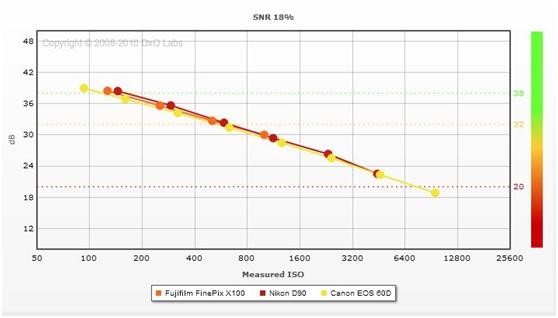 FujiFilm X100 vs. Nikon D90 vs. Canon 60D SNR
Nevertheless the D90 still has a clear advantage in the dynamic range; on the other hand in lower ISO settings the X100 is superior to the 60D.
Further readings for the Fujifilm X100 DxOMark Review
To provide photographers with a broader perspective about mobiles, lenses and cameras, here are links to articles, reviews, and analyses of photographic equipment produced by DxOMark, renown websites, magazines or blogs.

Camera Review
|
January 16, 2012

Preview
|
January 13, 2012