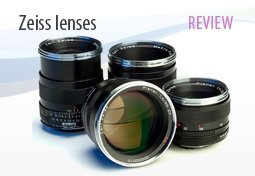 Carl Zeiss is one of those almost mythical lens makers. Focusing on quality, its lenses almost always rely on complex optical formulas. Their price reflects this involvement in quality, and logically Zeiss lenses are on the same shelves as the very high-end Canon or Nikon models.
We have tested 17 of them so far, ranging from the ultra-wide-angle Distagon T18mm f/3.5 to the much heavier Makro Planar T100mm f/2.
This article will summarize these test results. The first part will examine their DxOMark Scores for low-light and mid-light performance, along with their use case scores. Then we will study the evolution of the definition on the field according to the chosen aperture for each lens, along with the evolution of vignetting; these behaviors are strongly influenced by the size of the associated sensor, and this study shows the differences when mounted on full-frame or APS-C bodies.