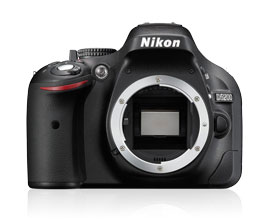 After the introduction of the entry-level 24Mpix D3200 early last year it seemed inevitable that the rest of the firm's APS-C (DX) range would be refreshed with the same sensor. While the gestation of the new 24Mpix D5200 has taken longer than most people could of reasonably predicted, the sensor is, in fact, a new design and the first from a different vendor for Nikon. We've recently put the new camera through our labs, read on to see how the new sensor performs.
Announced in early November, just a couple of weeks after Photokina had closed its doors, the new 24Mpix D5200 is intended replacement for the popular 16MP D5100 that sits in the firm's range just above the entry-level 24Mpix D3200 introduced in April last year.
The headline feature, unavoidably, is the new 24Mpix APS-C size CMOS sensor that by pixel count alone makes the D5200, like the D3200, rank alongside the Sony Alpha SLT-A65 and pricier A77 and NEX-7 models. Up till now it was safe to assume that all of these models, including the Nikons, featured the same Sony-sourced sensor, but the D5200 is the first to adopt a Toshiba sourced APS-C size CMOS chip featuring improved light-gathering sensor architecture.
Besides the extraordinary pixel count and intriguing sensor design, the sharp-eyed will notice the new chip adds a new high maximum ISO of 25,600 (double that of the D3100's), and faster continuous shooting at up to 5fps (up from 4fps). For budding movie-makers the new sensor also provides 1080/60/50i movies, albeit with a 1.25x crop, as well as the more conventional 1080/30/25/24p options.
Outwardly, the D5200 may appear mostly unchanged from the older D5100, however, internally, other improvements have been made by adopting the 39-point AF system (with 9-cross type sensors) and advanced exposure-metering module (using scene recognition) from the firm's high-end D7000 model. The new camera also has the firm's latest Expeed 3 image processor and supports Nikon's WU-1a WiFi adapter