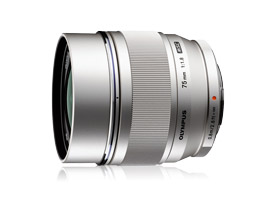 Announced in February 2012 the Olympus M.ZUIKO DIGITAL ED 75mm f/1.8 is a 'fast' telephoto prime for the Micro Four Thirds Lens mount. With an equivalent 150mm focal length it's a good option for portraiture or sports and the wide f/1.8 maximum aperture is great for low light, too. Costing $899 it's an expensive option for serious amateurs or professionals alike, so if it's a lens you're considering read on to make sure it delivers the results you desire.
It's been over four years since Olympus and Panasonic jointly announced their Hybrid Mirrorless Camera venture in 2008 and the Micro Four Thirds lens mount was born. Since then the growing number of Micro Four Thirds lenses available has started to turn the system into a serious option for more and more photographers. Olympus alone has 12 Micro Four Thirds lenses available covering a 9-300mm focal range, equivalent to 18-600mm in 35mm terms, including specialist options such as slim line pancake lenses, macro and portraiture primes, as well as a range of zooms.
A recent release is the Olympus M.ZUIKO DIGITAL ED 75mm f/1.8 prime lens announced in February 2012, which is an attractive proposition for photographers looking after a high-end 'fast' prime for studio, portrait or even sports photography. Taking into account the x2 'crop factor' on the Micro Four Thirds system the equivalent focal length translates to 150mm in 35mm terms making it a long telephoto option - something to bear in mind if you're planning portraits in the studio or environments with restricted space. Sporting a full metal housing, solid construction and all silver finish it certainly looks and feels the part but costing $899 it's not cheap. You don't even get a lens hood supplied as standard so budget another $75 if you want one of those! So if you're after a 'fast' telephoto prime is the Olympus M.ZUIKO DIGITAL ED 75mm f/1.8 worth the money?