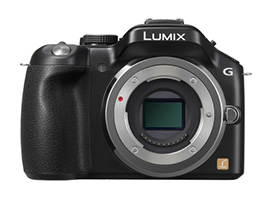 Panasonic is adding its ninth model to its growing Lumix G-series lineup. In July, the Japanese electronics giant announced the Lumix DMC G5 would replace the Lumix DMC G3. Like its predecessor, the G5 taps the increasingly popular mirrorless Micro Four Thirds technology that Panasonic co-developed back in 2008 with its cross-town Tokyo rival Olympus.
The Lumix DMC G5 makes no revolutionary change in sensor size; both it and the G3 sport a 16-megapixel sensor. However, Panasonic coins the G5's sensor as 'digital' Live MOS, and claims this new chip gives the camera an improved low light performance over its more dated sibling. This is illustrated with a new maximum ISO setting of 12,800 versus the G3's 6400.
However, during DxOMark testing, the G5 didn't live up to Panasonic's low light claims. But it did make big image quality gains in one important category.
Pros of the Panasonic Lumix DMC G5:
• Improved ergonomics
• Eye popping 920k touchscreen
• 6 frames-per-second shooting
• Good color depth
• Improved dynamic range
Cons of the Panasonic Lumix DMC G5:
• Underwhelming low light performance