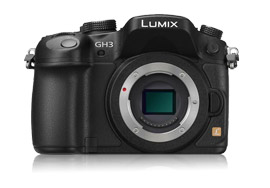 Hybrid is a word used both positively and negatively, quite appropriate for the photographic industry. The Panasonic Lumix DMC-GH3 wears this badge: "Hybrid", a mix of system and compact. It has a range of lenses spanning 7mm to 300mm (equivalent to 14mm up to 600mm in full frame 35mm) and a body that is not much bigger than a compact camera. Should it wear it with pride? Yes, it should…
The Panasonic Lumix DMC-GH3 is a small 4:3 camera, weighing in at 544g when fitted with its "default" lens, the Lumix G Vario 14/42mm f3.5-5.6 Aspherical. The 4:3 sensor gives the equivalent focal length for full frame 35mm exactly double. This particular 4:3 sensor is 16 MPix.
The GH3 has all that you would expect from a camera aimed at the serious enthusiast, plus a few unusual extras like 3D capture if you buy the interchangeable H-FT012E 12mm 3D lens. Images can be recorded as jpeg or RAW, Single capture or bursts of up to 20 frames per second (depending on the resolution set). There is no Image stabilization built into the camera but many of the lenses, including the 14/42 are equipped with IS. The monitor screen is not massively high resolution at 614K but it is fully articulated and touch sensitive, allowing for features like touch AF which lets you to choose the focus point on the screen by simply touching it.
The styling is like a small SLR camera, but the view through the viewfinder is of a 1.4Mpix equivalent monitor, so like other hybrid cameras, there is no mirror to be flipped out of the way between viewing and capture. The video capture is full HD: 1080p and with the wide range of lenses available this makes for quite a versatile camera. The lenses are Micro 4:3 mount, so there are Panasonic's own lenses and offerings from a host of other makers across a wide range of budgets.