RAW ISO values: The fundamental basis for accurate comparisons
A fair way to compare sensors is to assure that the shooting conditions are the same (same scene illumination, same exposure time and same aperture) and that the exposure of the output image is also the same. If these factors are the same, this will mean that the ISO sensitivity is the same at RAW level.
Thus when DxO Labs measures the performance of a sensor, we always link measurement results with exposure and then to real sensor ISO sensitivity.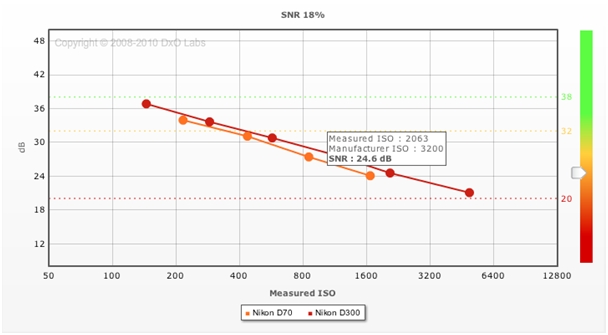 Once determined, RAW ISO allows for accurate comparisons. The dots are placed at the corresponding ISO value that shows the actual manufacturer nominal value. If the curves had been based on the JPEG ISO, the gaps would be much higher… but totally artificial and biased.
Further readings for the Pushed ISO: Let's make it clear
To provide photographers with a broader perspective about mobiles, lenses and cameras, here are links to articles, reviews, and analyses of photographic equipment produced by DxOMark, renown websites, magazines or blogs.

Article
|
February 04, 2011