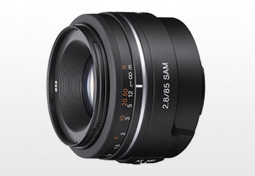 This new Sony "easy choice lens" is fully built in plastic, which means it's quite light (175g). Manufactured in China, it has a pretty affordable price tag at about 249 USD.
It's safe to assume that its lower price means lower quality, and with its plastic shell, people who prefer metal bodies may want to skip this one.
Those who don't mind plastic camera lenses may be interested in the image quality results....
Image quality of the Sony 85mm f2.8 SAM
Before starting, it is worth noting that a lot of prime 85mm lenses have already been measured on DxOMark.
We last reviewed the Samyang 85mm f/1.4 Aspherical IF Nikon and Canon Mount and it did not perform as well as the best lenses from this category, such as the Sony Planar T* 85mm F1.4 ZA or the Canon EF 85mm f/1.8 USM, for example. The Sony 85mm f/2.8 is about the same price as the Samyang lenses, but it does not perform as well. Nevertheless, it has an autofocus feature which the Samyang lacks.
It achieves a DxOMark score of only 15 (most of the other 85mm primes got more than 20 points on full-frame cameras).
On the other hand, the Sony 85mm f2.8 SAM's resolution metrics are as good as those for the lowest resolved 85 mm lenses, such as the Samyang 85mm f/1.4 Aspherique IF Canon (52 lp.mm; for comparison, the other 85mm lenses achieve a resolution metric between 57 and 67 lp.mm)
Other interesting comparisons:
Sony 85mm f2.8 SAM vs Sony Planar T* 85mm F1.4 ZA mounted on Sony a A900
Sony 85mm f2.8 SAM mounted on a Sony A900 vs Canon EF 85mm f/1.8 USM mounted on a Canon EOS 1Ds Mark III
Sony 85mm f2.8 SAM mounted on a Sony A850 vs Carl Zeiss Planar T 85mm f/1.4 ZE Canon mounted on a Canon EOS 5D Mark II
Sony 85mm f2.8 SAM mounted on Sony A900 vs Carl Zeiss Planar T 85mm f/1.4 ZF2 Nikon mounted on a Nikon D3x
Sony 85mm f2.8 SAM mounted on Sony A900 vs Nikon AF Nikkor 85mm f/1.4D mounted on a Nikon D3x
Sony 85mm f2.8 SAM mounted on Sony A380 vs Sigma 85mm F1.4 EX DG HSM Nikon mounted on a Nikon D300s
Sony 85mm f2.8 SAM mounted on Sony A550 vs Sigma 85mm F1.4 EX DG HSM Canon mounted on a Canon EOS 50D