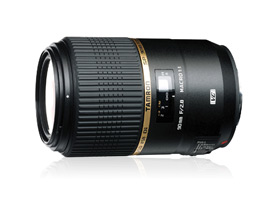 Tamron has an excellent reputation for macro lenses and their 90mm focal length is practically legendary. The latest version has a new state of the art optical design and adds image stabilization (vibration reduction) as well as an ultrasonic type AF motor. Read on to see how well this new significantly updated model performs in our labs.
Although lenses like the new VC 24-70mm f/2.8 and 70-200mm f/2.8 have enhanced Tamron's reputation recently, the 90mm Macro is one of the firm's most popular and highly rated in their line-up. This new model, introduced in September 2012, is intriguing for the fact that the firm has updated the optical construction and features both stabilization and a fast ultrasonic AF type motor. As a Di model it's optical performance is optimized for digital cameras and features the firm's new eBAND (extended bandwidth and angular dependency) coating to reduce ghosting and flare, but also present are two extra low dispersion and one low dispersion glass elements to reduce CA which is troublesome in macro lens like this.
The lens is also unusual for its weatherproof construction and internal focusing, meaning the overall length doesn't change, even when approaching the 0.3m minimum focus distance and 1:1 maximum magnification ratio. As a full-frame model the $749 lens is also compatible with APS-C format cameras, where it's the equivalent of a 135mm on a Nikon DX camera body.