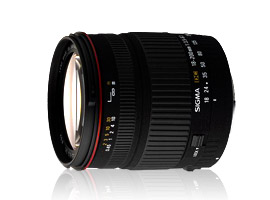 Sigma announced its 18-200 mm f/3.5-6.3 DC OS HSM II lens at the beginning of October 2011. While there's not much new in terms of its specs compared to the previous version (the Sigma 18-200mm F3.5-6.3 DC OS —see 18-200mm DxOMark reviews), the publication of its measurement results gives us the chance to take stock of all the Sigma offerings for this lens type.
This 18-200 mm lens, designed for APS-C-format cameras, retains the previous version's stabilization feature and in addition offers HSM (hypersonic motor) for all possible camera mounts — Canon, Nikon, Pentax, Sigma, and Sony. (Previously only the Nikon mount benefited from this feature.) Further, its optics formula now includes two new low-dispersion (FLD) glass elements to better handle chromatic aberrations. (We'll see what kind of an impact these glass elements have.)
We regreat that the even at its widest aperture, this simply isn't a bright lens at f/6.3. But the camera does come with a petal-style hood that allows the use of circular polarizing filters.
What effort has Sigma put into ergonomics? And what about the image quality of this new version? We will try to answer these questions and more below.