The Canon G1 X lens: a great lens on a great compact camera
Thursday, April 26, 2012
Lens Review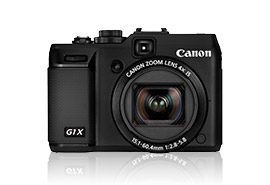 To follow up on our review of the impressive Canon G1 X sensor, today we are publishing its lens performance measurements, which are also very good — on par with some DSLR kit lenses!
Comments
I remain unimpressed

I'm glad that the lens does very well when wide-open, but man, the edges get soft without much work. I think that I would have preferred a smaller sensor and faster lens, especially for the eye-watering price that they are asking.


Reply

Compact Camera

.... is suitable for point and shoot purpose. The more compact the most comfort and agile like the S100.
If it is bulky (near to size of DSLR) it is not so difficult for other famous brand factories to do so (assembling bigger sensor size).
If that is needed or preferred a better quality. I reckon Nex 5N (hybrid type) with pancake lens is so proper to handle or be hidden in pocket in terms of output of quality images and camera's size relevant.
I would take the D550 of mine for more serious photography only.


Reply

Further readings for the The Canon G1 X lens: a great lens on a great compact camera
To provide photographers with a broader perspective about mobiles, lenses and cameras, here are links to articles, reviews, and analyses of photographic equipment produced by DxOMark, renown websites, magazines or blogs.

Camera Review
|
January 31, 2012