The Canon 5D Mark III vs its competition
Thursday, March 08, 2012
Camera Review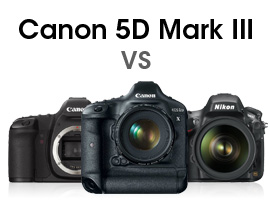 Following up on our hands-on review of the newly-announced Canon 5D Mark III, here are some comparisons with the most relevant models from Canon and Nikon:
Comments
Guess who is best sponsor for DxO...

Nikon or Canon? ;)


Reply

First replies for this comment

Re: DNR

Because the JPEG tone curve (measured by DPR) tells us nothing about the DR captured by the sensor. It really just indicates which jpeg settings produce low contrast images and which jpeg settings produce high contrast images. In some recent reviews DPR has tried to clarify the difference, but unfortunately they continue to use the term Dynamic Range on their tone curve test.

The Shadow Noise test on page 26 of that same review tells us more about the Dynamic Range of the sensor. You can clearly see the Canon has more noise in the shadows. The D800 can capture more stops of highlight and shadow detail while remaining below a specific level of noise. That is how it achieves a higher DR score.

It is not a conspiracy. Canon just hasn't improved the DR of their sensors yet; I am sure they will catch up eventually.

As a Canon fan, you know there are many aspects to a camera beyond sensor performance (e.g. lens quality, AF performance, metering accuracy). For example, the Canon S100 sensor is better than the Lumix LX5 and Olympus XZ-1, but the Canon S100 lens is so bad that the other 2 cameras are much better options. So, DXO sensor testing only tells us half the story.


Reply

Added by

viktas

| November 01, 2012

viktas

I own and use a 5Dmk3 for my studies and some of my clients for a few months now. I would have to write a sensor reading doesn't even come close to showing off this bodies attributes. Canon still have best lens choices if you can afford them, just show in raw if you might want more dynamic range or change settings in Picture Styles ( easy ). This is the fastest focusing body in this price range helping any one get the shot ( not missing it ), due to focus hesitation. Build quality is still best in class except for shutter count, Canon blew that one, but swaping out the mechanisium is always a option if you are a Professional down the line. Only because I'm able to buy one FF system did I invest in the best for most situations like a pro. I did care about just studio resolution becasue I don't have time for this in the field! The 5Dmk3 is the best in the field hands down. No hesitating focus, best lens choices and buid quality. Dxo's mark is for ametures.


Reply

Split Personality

DxO Labs use a scientific/unprejudiced approach to measure and evaluate camera sensor properties. Then again, they also use a tabloid way of distorting whatever their findings might be.

There's a difference between perception and assessment. Lurid presentation will attract the masses, informed audience will probably be driven away by it.

Anyway, whatever the title says, information is in the measurements instead.


Reply

Thank you

I'm really glad to see a major website, in such dry terms, effectively lay some smack down on the 5D Mark III. It's a minor upgrade over the Mark II and it costs $1,000 more.

That's 100% corporate arrogance coming from a company that thinks it rules the industry.


Reply | Read all replies for this comment
First replies for this comment

Re: Thank you

I'm afraid it does rules the industry. But I agree with you that it is very arrogant. Unless of course this is the best they can come up with, a bluff of sorts. Just ask a lot of cash for something that isn't bad, but it isn't great either, and maybe you'll impress their loyal followers. After all, if it is this expensive it must be because it's good, right? :-)


Reply

Sospechosa sensibilidad.

Estoy sorprendido por la gran diferencia de calidad que hay entre las dos cámaras. He sido usuario de nikon, de canon y ahora lo soy de sony. Está claro que el sensor de la d800 es mejor en casi todo, pero hay algo que no me cuadra dado que no tiene ningún sentido. El tamaño de los foto-captadores es muy importante a la hora de obtener poco ruido a altas sensibilidades. No es posible que la D800 arroje mejores resultados a altas sensibilidades que la canon 5D markIII. Sencillamente no me lo creo, además he visto comparativas reales en internet y ni de lejos se le acerca en sensibilidad a la canon 5D markIII. No dudo de la objetividad de la pruebas efectuadas pero no cuadra de ninguna forma los resultados. Si hay forma de explicar esto sin recurrir al tópico de que son ciclos y que la tecnología avanza hacedmelo llegar. Saludos.


Reply | Read all replies for this comment
First replies for this comment

Re: Sospechosa sensibilidad.

Pues a mí no me sorprende nada. Nikon usa sensores de alto rendimiento fabricados por Sony, Aptina y otros, mientras que Canon lleva casi una década sin innovar sustancialmente en la tecnología de los sensores. Por ponerte un ejemplo, los sensores de Sony son backlit; es decir que la parte que recibe la luz está libre de elementos conductores y otros obstáculos. Esos obstáculos disminuyen la cantidad de fotones que puede capturar cada fotosite y por tanto los backlit dan mejores resultados.

El desarrollo de sensores está cambiando a gran velocidad, a parte de la tecnología Exmor están saliendo al mercado muchos con patrones diferentes al de Bayer y también con posibilidades de "binning" o también los sensores con tecnología "foveon". Canon se ha quedado (hace mucho ya) atrás. No sabe o no puede desarrollar nuevas tecnologías en este área. La única manera que tiene de fabricar sensores de cierta calidad es el usar formatos grandes en donde la relativamente baja densidad de píxeles hacen que tengan un nivel de ruido moderado. Pero claro, a igualdad de densidad o incluso mas alta (mira la NEX-7 una APS-C que iguala a puntos a la 5D MK III), Nikon se los come con patatas.

No es cosa de DXOMark (no es razonable cargarse al mensajero por traer las malas noticias). Si Canon no es capaz de ponerse a la altura de la competencia, entonces debería considerar comprar sus sensores a terceros, como hace Nikon.

Saludos.


Reply

Re: Sospechosa sensibilidad.

Y ojo, no estoy diciendo que la 5D MK III sea una mala cámara. En absoluto. es la mejor cámara que ha sacado Canon hasta la fecha y en términos globales es una excelente cámara. Simplemente sucede que hay otras muchas mejores.

Saludos.


Reply

Nikon D800 !

I think Nikon D800 is much cheaper & better,
so Canon is loosing the game !!!
-------------------------------
http://photo-wed.blogspot.com/


Reply

I AM DXOMark !

<div id="linkdxomark">This a comment for <a href="http://www.dxomark.com/index.php/Cameras/Camera-Sensor-Database/Canon/EOS-5D-Mark-III">this page on the website</a></div>


[color=blue]Latest Photoshoot Collaboration of DXOMark and Nikon !

Enjoy:
[/color]
http://i42.tinypic.com/2q83pes.jpg

[img]http://i42.tinypic.com/2q83pes.jpg[/img]


Reply | Read all replies for this comment
First replies for this comment

Re: I AM DXOMark !

;D
------------------------------
http://photo-wed.blogspot.com/


Reply

Confused about the low ISO score

The print graph for SNR is almost identical to the D800 but the 5dIII is rated much lower. Also looking at picture comparisons I'm surprised to see this low number.


Reply | Read all replies for this comment
First replies for this comment

Re: Confused about the low ISO score

I'm confused as well... how does someone else who uses the same software by DxO and methodology (as standardized by DxO as well) get far different results?

http://www.techradar.com/reviews/cameras-and-camcorders/cameras/digital-slrs-hybrids/canon-eos-5d-mark-iii-1074186/review/page:5#articleContent

Something doesn't jive. But in my own experience with the three cameras, I would say it matches Techradar's results. I'm not one to think that DxO got it wrong, but something doesn't make sense here.


Reply

Re: Confused about the low ISO score

Im not 100% sure but there are maybe two reasons

The 5D Mark III have 2 more ISO Stops (even torough they are completly uselss)

So maybe the 5D Mark III looses some points in case of horrible performance at ISO 50k and 100k

or (what would make more sense)

The D800 have a much higher resolution. So at 36MP the D800 have nearly the same performance than the 5D Mark III at 24MP

But if you downscale the 36MP Images to 24MP the Noise is visible less a the D800 than on the 5D Mark III

So with the 36MP you can compensate the noise that you and with less noise at 24MP, compared to the 5D Mark III --> higher score

As this can be easily seen in every test i think also DxO Benchmark calculates this in


Reply

Added by

SLRist

| April 20, 2012

Re: Confused about the low ISO score

Techradar are using DxO's software to perform the test. Who do you think is more likely to be using DxO's software correctly - DxO or Techradar?


Reply

Sensor test of 5DMIII

So, when is the sensor test coming out for the Canon 5D Mark III? Its available in the shops for longer than the D800 and the D800 is tested already. I can buy a 5DMIII right now if I want but nobody knows when the D800 will be on the shelves. I would also be interested in the test results of the D800E


Reply | Read all replies for this comment
First replies for this comment

Added by

SLRist

| March 30, 2012

Re: Sensor test of 5DMIII

Haha.

I'm sure DxO Mark have already carried out their tests. They'll be hoping to use them to bolster their site visits.

I imagine they're keeping them under wraps for a while until all the hits they're getting following the D800 results start to ebb away.

It's all about maintaining site traffic, after all.


Reply

Re: Sensor test of 5DMIII

Quote:

It's all about maintaining site traffic, after all.


Not only that. It's also about not overloading the site. After the D800 results were released the site nearly crashed.


Reply

Added by

SLRist

| April 01, 2012

Re: Sensor test of 5DMIII

I just checked, and they're not serving through a CDN. Crazy.


Reply

Further readings for the The Canon 5D Mark III vs its competition
To provide photographers with a broader perspective about mobiles, lenses and cameras, here are links to articles, reviews, and analyses of photographic equipment produced by DxOMark, renown websites, magazines or blogs.

Camera Review
|
March 02, 2012