Canon jumps on mirrorless bandwagon with EOS M
Tuesday, July 24, 2012
Camera Review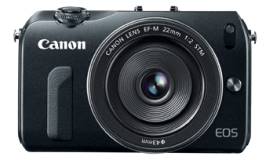 Canon's 18-megapixel EOS M is sure to turn heads, as it combines some of Canon's famous DSLR and video technology and stuffs it into a point-and-shoot like camera body. Here's the scoop on Canon's first mirrorless model and some of its accessories.
Comments
No news

The DxO usual review...


Reply

BSI sensors?

That can't be right. I've never heard of Sony using BSI image sensors. They only appear in some compacts and mobile phone cameras like the iPhone. BSI APS-C? that has to be an error. As for Canon, it looks like more of the same, stuck in the same place for the past 5-6 years, their APS-C sensors need a major overhaul. It's sad that a used Sony NEX C3 has an image sensor that beats the one in a Canon 7D.


Reply | Read all replies for this comment
First replies for this comment

Re: BSI sensors?

Hello,

Thanks for having noticed it and letting us know.

Sony actually uses BSI sensor but only on its last Cybershot line cameras.

Kind regards,


Reply

Further readings for the Canon jumps on mirrorless bandwagon with EOS M
To provide photographers with a broader perspective about mobiles, lenses and cameras, here are links to articles, reviews, and analyses of photographic equipment produced by DxOMark, renown websites, magazines or blogs.

Camera Review
|
July 24, 2012