One of the sharpest lenses, mounted on Canon, ever measured by DxOMark website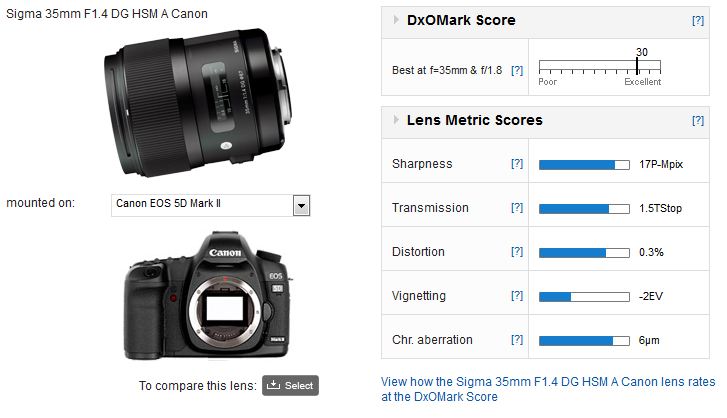 The Sigma 35mm F1.4 scored 17 P-MPix for sharpness and an overall DxOMark score of 30.3 putting it at the top of both of these rankings for a 35mm lens. Taken individually, among the 35mm lenses available for Canon virtually all measures, show the Sigma as the equal or better of the group, its score positions it as one of the sharpest lenses tested by DxOMark on Canon mount.
Comments
Newer Canon camera bodies for measurement?

I'm actually very interested to know why the canon lens tests are still based on 1ds Mk 3 or 5D mark II, both of which are quite old models, while Nikon has already started using D800.

Or is DxO expecting very close performance between 5D mk 3 and these models?


Reply | Read all replies for this comment
First replies for this comment

Re: Newer Canon camera bodies for measurement?

Hello,

Thanks for your interest in DxOMark.

Your question is very relevant: we are about to review 90 lenses mounted on the Canon EOS 5D Mark III and the results are amazing...

Stay tuned !

The DxOMark team



Reply

Further readings for the Sigma 35mm f1.4 DG HSM A Canon review: A Prime Example of Lens Design
To provide photographers with a broader perspective about mobiles, lenses and cameras, here are links to articles, reviews, and analyses of photographic equipment produced by DxOMark, renown websites, magazines or blogs.