Measuring sensors using RAW and testing lenses on cameras
Since DxOMark measurements are performed on RAW images, an imaging sensor is required to perform measurements.
While this statement is obvious, when talking about optical measurements, it is very common to refer to lens performance alone.
However, sensors significantly influence optical performance, so it makes a lot of sense to evaluate and compare lens-camera combinations, rather than just lenses alone.
Lens performance vs sensor physical dimension
Lenses can often be used on different sizes of sensors—for instance, most APS-C or APS-H cameras can mount lenses originally designed for 24x36mm cameras. In this case, the generated picture is a "crop" of the picture that a camera with a larger sensor would generate.
Obviously, if optical performance decreases from center to corners on a 24x36mm camera, the optical performance on a smaller sensor should be better, and this is true for distortion, chromatic aberration, vignetting and resolution.
In the case of resolution, since results are normalized (stretched in this instance) to a 24x36mm output, the resolution at the center of the field is lower, but is more homogeneous overall.
Lens performance vs pixel size
A digital imaging sensor is composed of many photosites, or pixels. The smaller the pixel size, the greater the sensor resolution. Resolution is highly influenced by both pixel size and sensor dimension.
Obviously both the sensor and the optics have an influence on resolution, and either one of them can be a limiting factor.
Influence of pixel design and microlenses
Each camera sensor model is designed carefully to maximize performance. The sensitive area of a pixel is an important factor that is often increased by using microlenses to focus more light on the sensitive area. This also has some influence on resolution.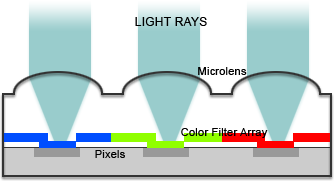 Microlenses focus light on sensitive areas.
Since microlenses are maximally effective only for certain lens apertures, microlens performance decreases as the difference from the ideal aperture increases, meaning that the full T-stop range of the camera is far from optimal.
Conclusion
All of these sensor-related factors have an impact on lens performance and cannot be ignored. The very same lens can show differences in image quality performance when coupled with different camera bodies, which is why DxOMark puts in the time and effort to test and publish the results for as many lens-camera combinations as possible.