90

89

88

87

86

85

84

83

82

81

80

79

78

77

76

75

74

73

72

70

69

68

67

66

61

59

57

50
Canon PowerShot N
Monday January 14 2013
Mobile Preview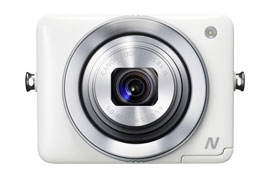 Canon has announced its new PowerShot N model. In this competitive market a product needs some particular advantage and the PowerShot N is marketed as a very 'connected' camera, its built in Wi-fi should connect easily to your smartphone, making it easy to geotag your images or to share pictures or video while on the go. The question is, is it a good enough camera to outweigh the fact that your smartphone probably does most of the same things?
The convergence of the compact camera market and the smartphone market means that a connected camera really needs to be very good to survive. The Canon PowerShot N is well specified, it has a 12.1 Megapixel, 1/2.3-inch CMOS sensor backed up by Canon's Digic 5 image processor, it does full HD Video, image stabilization and everything else that you would expect from a decent compact digital camera. However, you would now be able to have the same functionality from a smartphone.
What makes the PowerShot N so much better is the lens. The Canon is fitted with a 5mm – 40mm optical zoom lens (equivalent to 28mm – 224mm). It also has a digital zoom, which is all that the smartphones have, so the image quality you will get when the PowerShot N is used 'telephoto' will be based on the full sensor resolution rather than simply a tiny crop from the middle of the sensor.
Based on the specifications, if you are interested in photography and want a small camera with straightforward connectivity then the PowerShot N looks very promising, but is it just a matter of time before smartphones start to sport zoom lenses to compete with it?