90

89

88

87

86

85

84

83

82

81

80

79

78

77

76

75

74

73

72

70

69

68

67

66

61

59

57

50
HTC One Smartphone: A fresh approach for camera phones
Monday March 11 2013
Mobile Preview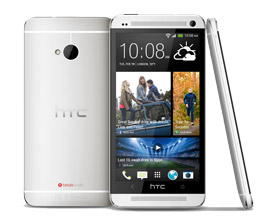 Whilst the camera phone megapixel race hots up with 13 and even 16.3-megapixel Smartphones previewed at Mobile World Congress 2013 (MWC 2013) HTC have bucked the trend with their latest flagship offering. Featuring a 1/3" 4Mp sensor and 28mm f/2 lens HTC claim their new Smartphone captures 300% more light than traditional camera phone sensors. We preview the HTC One and round up the most exciting products unveiled for photographers at MWC 2013.
Sandwiched between launches of the new Sony Xperia Z flagship Smartphone unveiled in January and the hotly anticipated Samsung Galaxy S4 due at the end of March, HTC have laid their cards on the table with the HTC One. Featuring a zero-gap metal aluminum shell, the HTC One sports a 4.7" display with full body dimensions of 137.4 x 68.2 x 9.3mm and despite the slightly smaller screen size than many full HD displays the HTC One boasts a 1920x1080 resolution.
Powering it all is a quad-core 1.7GHz Snapdragon 600 chipset and 2GB of RAM, which should make performance pretty snappy, and whilst the HTC One does run the latest version of the Android 'Jelly Bean' Operating System, HTC have overlaid their own software interface HTC Sense. Instead of the usual Android home screen HTC Sense 5.0 displays something called HTC BlinkFeed, which is essentially a constantly updated feed from the news and social media services you subscribe to. It's a bold move that's in line with the way modern users are interacting with their phones, but may alienate those who like instant access to their Apps and Widgets via the standard Android home screen.
Is the camera phone megapixel race over?
When it comes to the camera technology, HTC has been even bolder and in the midst of camera phone megapixel race, with 12 or 13-megapixels becoming the norm for new flagship Smartphones, the HTC One utilizes a 1/3" sensor with just a 4-megapixel 2688x1520 pixel resolution.
HTC claims the new sensor captures 300% more light than traditional Smartphone camera sensors, and pixels on the HTC One are a large 2 microns in size, which is comparable to compact cameras like the Canon S100. With a 28mm f/2 optical image stabilized lens the HTC One promises improved performance in low light, and Smart Flash on the HTC One provides five flash output levels automatically determined by subject distance. The front camera is 2.1-megapixel with a wide-angle lens, HDR capability and image stabilization.
It's encouraging to see HTC are not afraid to take a few risks bucking the trend for larger displays and higher megapixel cameras with the HTC One. It'll be interesting to look at performance difference with its 13-megapixels competitors to get the fact straight which design choice gives better image quality.
Mobile World Congress 2013: Camera Phones that caught our eye
Held in Barcelona, Spain, between 25 – 28 February 2013 Mobile World Congress 2013 (MWC) attracted more than 72,000 attendees to preview the latest innovations in Mobile Phone technology.
Whilst some of the biggest names in the industry choose to launch their flagship products at solo showcase events, MWC is a platform for other players to wow us with their latest tech. ZTE launched their new flagship Smartphone, the Grand Memo, with a huge 5.7" display and other innovative products from YotoPhone, with their E-Ink second screen and Caterpillar's durable all-terrain mobile that's dust and water-resistant, as well as shock proof were on display. We've picked out 10 Smartphones that caught our eye for their photographic possibilities.
Caterpillar's B15 Smartphone is shockproof up to a 1.8m drop and the sealed shell could be interesting for photography in wet and dusty environments. Its specs aren't that impressive though with a 4" WVGA resolution display, dual-core 1 GHz processor and 5MP camera.
The Sony Xperia Z features a 5" 1920x1080 TFT, quad-core 1.5GHz processor and 2GB of RAM. The main camera is 13-megapixel, has a LED flash and is both waterproof and dustproof. The similarly spec'd 1.5 GHz quad-core 2GB RAM ZTE Grand Memo also boasts a 13MP camera with flash and an even larger 5.7" display but with a lower 1280x720 resolution.
The dual screen Yotophone is an interesting concept with a 4.3" 1280x720 resolution full color LCD on one side and a 4.3" E-Ink EPD display on the other. With dual-core1.5 GHz processing and 2GB it'll be no slouch and packs a 12MP camera to boot.
Huawei's Ascend P2 has a slightly more manageable 4.7" LCD with 1280x720 resolution, 13Mp camera with flash and quad-core 1.5 GHz processor but only 1GB of internal RAM. The highest resolution offering was the 16.3MP Fujitsu Arrows X F-02E that with its 5" 1920x1080 display and quad core 1.7 Ghz processors looks impressive, but unfortunately will only be available in Japan.
Nokia's Lumia 520 and 720 releases both feature dual-core 1 GHz processors with 512MB RAM and a WVGA 480x800 resolution. Lumia 720 boasts a 4.3" display with Gorilla Glass 2, a 6.7MP camera, f/1.9 Carl Zeiss lens and a 1/3.6" sensor while the 520 has a smaller 4" display and only a 5MP camera with no flash. If you're after a 13-megapixel cameraphone however check out Alcatel's One Touch Idol X or LG Optimus G Pro both of which feature quad-core processor, large 5" or 5.5" displays with a full HD 1920x1080 resolution.