90

89

88

87

86

85

84

83

82

81

80

79

78

77

76

75

74

73

72

70

69

68

67

66

61

59

57

50
Samsung Galaxy S4: "Chasseur d'Images" review
By Chasseur d'Images -
Wednesday July 24 2013
Mobile Review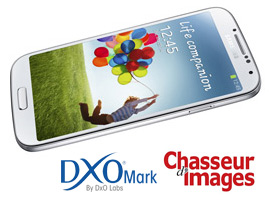 Chasseur d'Images, the first European magazine dedicated to photography, has chosen to rely on DxOMark Mobile technology for its new section devoted to smartphone image quality measurement. In its July issue, the magazine reviewed the Samsung Galaxy S4 integrating the report with measurement data supplied by the laboratories at DxOMark.
Appreciated for its performance and its giant screen, the Galaxy S3 is now complemented by the Galaxy S4 with which Samsung goes one step further, adding an impressive number of entertaining and creative functions. Imaging is not forgotten and with photo and video, Samsung expands the capabilities making the camera-phone a device that outperforms many existing compacts, enough to satisfy even seasoned photographers.
13 megapixel photos
Autofocus, Flash
Face recognition
Panorama mode
Best photo mode
Image Animation
Full-HD Video
Image geotagging
1,920 x 1,080 AMOLED display
Air gesture proximity detection
Samsung released the S4, a more highly featured device, just months after the launch of the S3. Seen from a far, both devices look identical, but with closer examination everything has changed. The screen size has increased slightly from 4.9 " diagonal 1280 x 720 pixels to 5" Full-HD 1920 x 1080,and has effectively double the resolution. The 8 Mpix rear sensor has been replaced by a 13 Mpix unit, together with the 2 Mpix front sensor. Finally, with the S4 Samsung has worked on the software especially and its functions are playful, but also creative and innovative, which open new prospects for photo taking and video capture.