90

89

88

87

86

85

84

83

82

81

80

79

78

77

76

75

74

73

72

70

69

68

67

66

61

59

57

50
Sony Xperia Z Smartphone
Monday January 14 2013
Mobile Preview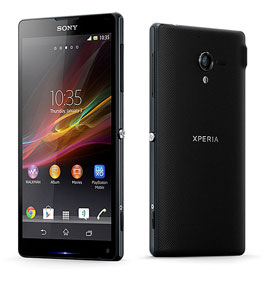 Sony has announced the latest addition to its Xperia range the Xperia Z. In a further blurring of the boundaries between different types of device , the Xperia Z has a sensor of 13.1 Mpx, more pixels than many dedicated cameras. If the performance is as good as the specifications then this is worth looking at.
The Sony Xperia Z is a large, but very thin smartphone: 139mm x 71mm x 7.9mm. Weighing in at 146g it is still more a phone than a tablet but only just. As a phone it has 4G, dust and water resistance to the highest level, a 1.5Ghz quad core processor with 2Gb Ram and a batter that boast standby times of up to 550 hours (that's nearly 23 days!) The highlights of the specifications from a photographic perspective start with the 13.1 Mpx sensor, Sony is not alone with this resolution, but there are still only a few. The high resolution will probably mean that the 16x digital zoom may produce useable results, at least at the lower end of the range. The camera will produce HDR stills and video, has an image stabilizer and a wide range of automated effects and functions to help get the picture. On top of this, it has a 5" high resolution TFT screen: 1920px x 1080px. Again it is not alone but with the combination of large image dimensions and high resolution screen it should be quite impressive.
Sony's Xperia Z will not appeal to everyone, it is big for a phone, small for a tablet and as a camera it has only a digital zoom. However, it would appear to fulfil, in some way, nearly all of the functions expected of a computer and of a phone and of a camera.