A first look at Nikon's new flagship camera, the Nikon D4
Sunday January 08 2012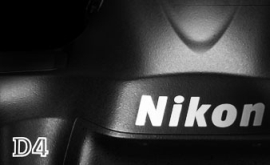 In response to the announcement of the Canon EOS 1D X, Nikon just unveiled its new flagship camera, the Nikon D4, which replaces the D3s at the top of the Nikon DSLR line-up. This new model features impressive specs: a new 16-Mpix FX sensor with sensitivity up to 200,000 ISO, uncompressed Full HD video recording with autofocus, 11 fps burst mode, improved 51-point autofocus module, face detection, wireless control...

Let's have a closer look at these promising specs.
There has been a lot of excitement about the upcoming new Nikon models in the past several days, particularly with respect to a hypothetical successor to the aging D700. It seems that we will still have to wait for that one; however, we were finally presented yesterday with a just-as-exciting Nikon D4.

Coming as a replacement for the not-so-old D3s, this new model is also a tough competitor for the recently-announced Canon EOS 1D X, and a weapon of choice for all photographers who will be covering the most important events of 2012, the London Olympic Games in particular. The list of improvements is impressive indeed:
Sensor: The D4's sensor gains 4 megapixels over the D3s to reach 16 Mpix. These extra pixels do not prevent it from offering record sensitivities up to 204,800 ISO. The image quality in high ISO looks to have been improved, too, and if this is confirmed, we can already announce that the D4 will set new records, as the D3s is already the best-ranked camera on DxOMark for high ISO performance.
Autofocus: The 51-point layout of the D3s was retained, but the sensitivity of the autofocus points was improved to make the camera even more efficient in low light. The autofocus will also work with apertures as small as f/8 (on a limited number of points, however); no doubt that photographers shooting with teleconverters will like this improvement. A new face detection mode has been added and will be available even when using the optical viewfinder — a first!
Video shooting: Nikon obviously wants to catch up with Canon in this area, and offers a lot of improvements that will most certainly appeal to videographers. Full HD at 30/25/24 fps, of course (60 fps being possible in 720p mode), microphone input with volume-level monitor, uncompressed live HDMI output (the press conference we attended was filmed by three Nikon D4 and broadcast live on the web), DX and CX crop modes (x1.5 and x2.7). Last but not least, the autofocus still works in video mode, and all shooting parameters can be changed during recording.
Burst mode: The burst mode reaches 10 frames per second with autofocus and automatic exposure, and can even reach 11 fps in FX mode if users lock focus and exposure. The D3s reached "only" 9 fps in FX mode, reserving its 11 fps for DX mode.
Various other improvements:
A new x1.2 crop mode has been added to the usual DX (x1.5) crop mode for still pictures.
A new 91k-point light-metering sensor.
Dual card slot: one CF slot, of course, but also a brand-new XQD slot.
A new Expeed 3 processor that allows all processing options to be enabled without slowing down the burst frame rate.
A new WT-5 WiFi module that lets the camera act as a HTTP server so that its content can be accessed from any WiFi device (smartphone, tablet, laptop). Also allows full remote camera control.
New joysticks for AF point selection, accessible both in portrait and landscape orientation.
In-camera IPTC field editing.
Retro-illuminated buttons, making shooting in the dark easier.
The camera will be sold starting on February 16th at a recommended price of 5799€.
Further readings for the A first look at Nikon's new flagship camera, the Nikon D4
To provide photographers with a broader perspective about mobiles, lenses and cameras, here are links to articles, reviews, and analyses of photographic equipment produced by DxOMark, renown websites, magazines or blogs.
---
| | |
| --- | --- |
| | After months of rumors swirling about, today Canon finally launched its new flagship DSLR: the Canon EOS 1D X. This new camera will replace not just the EOS 1Ds but also all EOS 1D current models... and will bring the APS-H sensor size to an end. |
---
Sensor Recommendations
|
February 17, 2010
Nikon and Canon launched their new top-of-the-line cameras for news and sports photography at the end of 2009. The Nikon D3s replaced the NikonD3, and the Canon EOS 1D Mark IV replaces the Canon EOS 1D Mark III.
On the one hand, the Nikon D3s's sensor specifications remain very close to those of the Nikon D3; on the other hand, Canon replaced the Mark III's 10 Mpix sensor with a new 15.9 Mpix sensor with the same sensor surface.
---
Comments
Added by

affclga

| January 10 , 2013

Nikon AF-S VR Micro-Nikkor 105mm f/2.8G IF-ED on D4

<div id="linkdxomark">This a comment for <a href="http://www.dxomark.com/index.php/Cameras/Camera-Sensor-Database/Nikon/D4">this page on the website</a></div>Am I reading wrong, or does DxOMark list two different scores for the Nikon AF-S VR 105mm f/2.8G IE-ED on the D4? One one page the score appears to be 35 and on another 27. See:

http://www.dxomark.com/index.php/Publications/DxOMark-Reviews/Nikon-D4-review/Lens-Recommendations

http://www.dxomark.com/index.php/Lenses/Compare-Camera-Lenses/Compare-lenses/(lens1)/261/(lens2)/489/(lens3)/560/(brand1)/Nikkor/(camera1)/767/(brand2)/Tamron/(camera2)/767/(brand3)/Sigma/(camera3)/767




Reply | Read all replies for this comment
First replies for this comment
---
Added by

Nicolas

| January 10 , 2013

Re: Nikon AF-S VR Micro-Nikkor 105mm f/2.8G IF-ED on D4

Hello,

You are not reading wrong! Here is the explanation: we changed the dxomark and sharpness scoring system last December (for further information you can have a look at DxOMark's Perceptual Megapixel on this page: www.dxomark.com/index.php/Publications/DxOMark-Reviews/Looking-for-new-photo-gear-DxOMark-s-Perceptual-Megapixel-can-help-you).


For this reason, previous reviews using the old scoring system are now indicated with a banner. This one was actually missing but that should be fixed soon.

Sorry for that!

Regards,


Reply
---
ISO performance

but this is a conspiracy against DxO ....... still denied its results ....

http://www.digitalcamerainfo.com/content/Canon-EOS-1D-X-Digital-Camera-Review/Noise-Reduction.htm


Reply
---
another denial

Opss...... another site that belies the DxO dynamic range:

http://www.digitalcamerainfo.com/content/Canon-EOS-1D-X-Digital-Camera-Review/Dynamic-Range.htm


Reply
---
When you are not sincere

if you click here, and understand Italian, you can see that your assessment of the noise and dynamic range is too sbilanciat in favor of NIKON.
In Reala is better the Canon ......

http://www.reflex.it/wp-content/uploads/2012/10/Camera-TEST_Eos1Dx.pdf

http://www.reflex.it/wp-content/uploads/2012/03/Camera-TEST_Nikon-D4.pdf


Reply
---
What a joke!

I agree with avicenna. The 70-200 II came out in 2009 and you haven't had a chance to get your hands on one?? Stop comparing lenses that cost orders of magnitude more or less than others, and please check other sites before you recommend a 20 year old lens over a brand new one that all other sites consider improved (50 f/1.8s). You probably have a bad copy if your tests are against all other recommendations!


Reply
---
Missing newer lenses for comparison

<div id="linkdxomark">This a comment for <a href="http://www.dxomark.com/index.php/Cameras/Camera-Sensor-Database/Nikon/D4">this page on the website</a></div>

You guys need to catch up on lens reviews before you post lens recommendation articles...

Some of the lenses you recommend are so old you can't even BUY them anymore. Many sections completely ignore newer lenses that are far superior to the old versions (Nikon 50mm f/1.8 AF-S for example), just because you haven't reviewed them.

You are doing a disservice to your readers.

...

Lenses for sports and wildlife photographers
> where is the Nikon 70-200 VR II f/2.8 and the Tamron 70-200 f/2.8

Lens suggestions for portrait photographers
> where is the Nikon 85mm f/1.8 AF-D and Nikon 85mm f/1.8 AF-S

Fixed Prime Lens Recommendation
> where is the Nikon 50mm f/1.8 AF-S - it should outperform the older AF-D version

The ultimate wide-angle lens for landscape photographers
> THIS is the worst. How can you compare a 24mm f/1.4, a 20mm f/2.8 that costs 1/4 of the price, and a manual-focus 14mm!!! Especially the 14mm, which is 40% wider of an angle than the 24mm!
> You should have compared the Nikon 24mm f/1.4 versus the newer Nikon 28mm f/1.8 and the older Nikon 28mm f/1.4 AF-D.
> Or how about the Nikon 28mm f/2.8, 24mm f/2.8 and 20mm f/2.8 for a budget prime shootout?

Micro lens recommendation
> Where's the new version - the Sigma 105mm f/2.8 OS. You can't even BUY the old version anymore!
> What about the Tokina 100mm macro? Should have been a 4-way comparison of Nikon, Sigma, Tamron, and Tokina lenses.

Missing section: Ultra wide angle
> Here's where you put the Samyang 14mm - compare it against the Nikon 14mm f/2.8 and the Nikon 14-24mm f/2.8.
> Or compare the Nikon 14-24mm f/2.8 against the Tokina 16-28 f/2.8 and Sigma 12-24 f/4.5-5.6.
> Or compare the Nikon 17-35 f/2.8 and the Nikon 16-35 f/4 against the Tokina 16-28.

Missing Section: NORMAL ZOOM
> This is the lens type that most people buy anyway, and yet, it's not here.
> Where is the Nikon 24-70 f/2.8, the Sigma 24-70 f/2.8, the new Tamron 24-70 f/2.8 VC, the new Nikon 24-85 f/3.5-4.5 VR, or even some of the old Nikon f/2.8 zooms (since we're doing ancient lenses anyway).




Reply
---
D4 vs D800

Hi to all,

Just thought I would share my opinion on the D4 and D800. It might help some of you guys out.

I owned a D3s and D300 and now use the D4 and D800 for weddings, model shoots and urban photography.

First I would like to state that the D4 is just the best camera I ever owned. It is really superb. I also shot with Canon (5D mkII) but the Nikon models just feel better when holding them. When it comes to overall image quality I would just as easily use a Canon camera. Just to point out I am not one of those guys who loves to bash the other brand :) Nikon or Canon are both great camera manufactures but I just prefer Nikon.

On all camera's I use a 14-24 2.8, 24-70 2.8 and 70-200 2.8. So there was no difference regarding lenses.
The picture quality of the D800 and D4 are in my opinion pretty much the same. The higher resolution of the D800 makes reducing noise somewhat easier and brings out a little more detail.
The D4 however is much better build. I find the D800 more plastic and it feels somewhat cheap.
But when it comes to model shoots the higher resolution is just great to have.

During a wedding I use the D4 for the make-up shots, ceremony, diner and party. But for the bridal shoot I use the D800 for 90% off the time. When I need higher ISO's I drop the D800 and go back to my D4.

The D4 is fast while focussing and has a better ISO performance than the D3s. Most say that the ISO performance of the D3s and D4 are the same but that is not true. I can go up to ISO 10000 on my D4 and get the same quality as when I shot at ISO 6400 on my D3s. For my D800 and Canon 5D MKII I won't go higher than ISO 3200. And on my D300 I really didn't go any higher than ISO 1200. Just to point out that I am really picky when it comes to noise.

The battery life of the D4 is also better than some say. I shoot around 1700 images during a wedding (starting at 8:00 AM till 1:00 AM) and still have 3 bars left.

I don't do video so I can't say if Canon does a better job on this part.

In my opinion the D4 is the best camera to have.
If you can afford it, go for it. I sold my D3s and paid a lot extra for the D4 and find the better focus (in the dark), higher resolution (for cropping) and better ISO performance are worth the money. For all types of photography in which you need a fast focussing monster camera this would be the one.
When doing solely model shoots or urban photography the D800 would be the best choice because of the higher resolution.
For nature photography go for the D800E.

If you don't need the higher resolution and don't have the cash for a D4, then buy a second hand D3s. You can buy one for around 3000 euro's which is the same price as a D800. But the D3s is much better build. And the ISO performance of a D3s is so much better than on a D800.

Hope this will help some of you decide.
You can find my work on pixed.nl






Reply | Read all replies for this comment
First replies for this comment
---
Re: D4 vs D800

Very nice summary analysis by someone who has experience in using both cameras. This information is very helpful and thanks for taking the time to inform us.


Reply
---
D4 lens tests

No, no 'Tamron and Sigma lenses all tested on a Nikon D4'. Not one.


Reply
---
Added by

oxxl

| May 14 , 2012

Why use old lenses?

Hi Just have a question: Why do you use old lenses for the tests? There is a BIG difference between the Nikon AF-S VR Zoom-Nikkor 70-200mm f/2.8G IF-ED and the newer version 70-200mm II.
Regards
oxxl



Reply
---
Sony pro relfex?

Probably not, its more mirrorless even tho mirror is still there, but its EVF based camera. Sony wont make dSLR in future. Cause of that I doubt they will match D800, there will be loss of SNR due half-silvered mirror if I dont count that one which will be caused by different CFA and Sony usuall approach "colors over everything" (which is why I like them :). Plus D3x didnt performed like A900 either (cause Nikon is pretty good in squeezing Sony chips). Tho as main supplier for Nikon, they actually profit either if Nikon wins.

Im quite interested in what should be "lower" Sony model with 24 mpix FF (revised or new chip supposedly). Imagine 36 mpix A99 priced around D800, then decent 24 mpix FF priced quite a bit lower.. :D


Reply
---