Canon EF 100mm f/2 USM: a classic never dies
Friday September 07 2012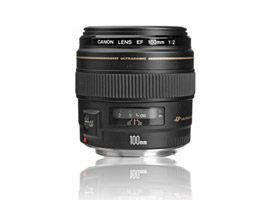 Affordable. Light. Compact. And a classic. The two-decade-old Canon EF 100mm f/2 USM is a popular lens known for producing high quality images. Its wide aperture and medium focal length make this Canon product ideal for newbie photographers looking to enhance their portfolio with a portrait lens.
Further readings for the Canon EF 100mm f/2 USM: a classic never dies
To provide photographers with a broader perspective about mobiles, lenses and cameras, here are links to articles, reviews, and analyses of photographic equipment produced by DxOMark, renown websites, magazines or blogs.
---
Lens Review
|
September 07, 2012
| | |
| --- | --- |
| | Canon's EF 100mm f/2 USM dates back to the early 1990s, making it one of the camera maker's more veteran lenses. But don't let its age fool you, the lens' continuing popularity among professional and amateur photographers alike proves a classic never dies. |
---
Comments
A much ignored gem of a lens

The colour saturation & sharpness exceed even the 90mm tilt shift.
It's small size and totally usable f2.0 make this lens a gem and best of all it's not that expensive.
Hard to find used but if you can it is a steal.
This lens is not 'new' or trendy or an impressive lump of glass but you will love the results and the ease of use.


Reply
---
Added by

AaronMC

| September 07 , 2012

Canon's Medium and Telephoto Lenses Have Always Been Good

No one can accuse Canon of not having good medium to long telephoto lenses. Their super-telephoto are probably the best in the business. The problem has always been their wide-angle.


Reply
---