Canon EF 20-35mm f/3.5-4.5 USM: an oldie but goodie
Tuesday February 28 2012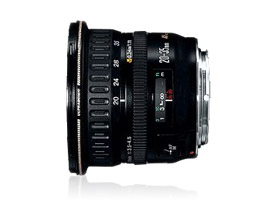 After looking at the Nikon AF-D series, DxOMark continues working its way through the history of photography by presenting the measurements for another "antique" lens, the Canon EF 20-35mm f/3.5-4.5 USM.
(As ever, you can see the results for most available Canon cameras, such as the Canon EOS 5D Mark II or the even older Canon EOS 350D, by selecting it on the lens page.)
This lens is one of the oldest measured in our DxOMark database. Announced in 1993, the EF 20-35mm f/3.5-4.5 USM represented a genuinely novel approach for Canon at the time — to offer a quality-built wide-angle zoom at a reasonable price.
The metal housing is indeed well-crafted, but unfortunately this lens has only 5 diaphragm blades, which can have an impact on the bokeh. (FYI, in general even today's "entry-level" lenses use a 7-blade diaphagm.) Nor was aperture a priority back in the day: the maximum f-numbers for this lens are 3.5 for 20mm and 4.5 for 35mm — quite limited compared to recent lens offerings.
But instead of glorifying youth, let's look more closely at the image quality measurement results for this older-generation lens….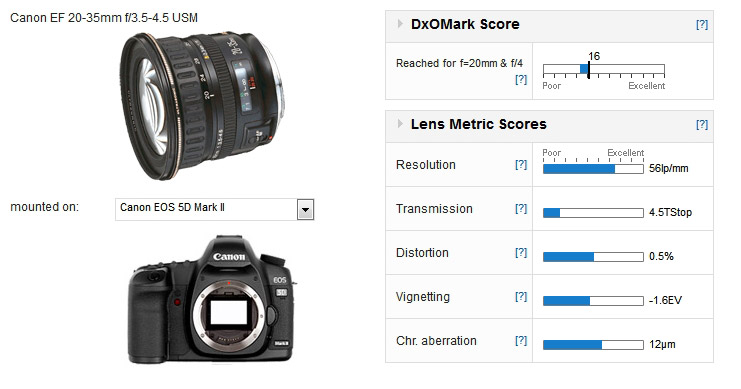 A DxOMark score of 16 is perfectly respectable for a nearly 20-year-old lens. Note that the bar graphs indicate a high degree of uniformity for this lens, and in fact the quality achieved at 20mm is the same for the other focal lengths.
| | |
| --- | --- |
| Strong points | Weak points |
| Good sharpness | Not a bright lens |
| Light-weight lens | Very significant vignetting |
| Good quality-to-price ratio | |
Respectable standalone scores, then, but now for the crucial question: how well does the Canon perform when compared to a similar but younger lens? Let's take a look: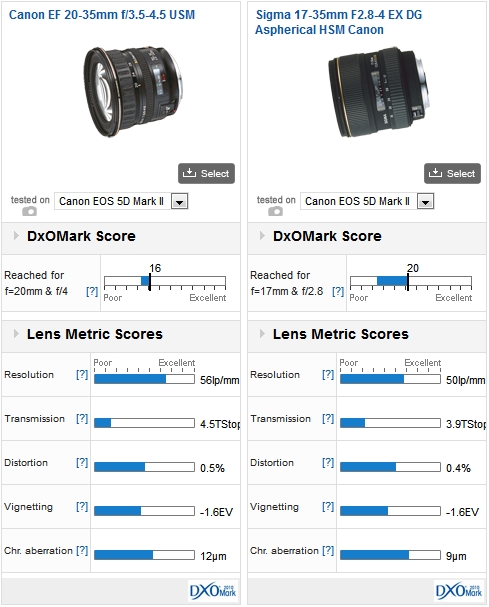 Even with a 10-year gap, there is only 6 points' difference in DxOMark scores between the two lenses. Not bad for an old-timer!
The advantages of the Canon EF 20-35mm f/3.5-4.5 USM:
Its resolution.
Its quality-to-price ratio.
The advantages of the Sigma 17-35mm F2.8-4 EX DG Aspherical HSM:
Brighter by about ½ EV.
Better correction of chromatic aberrations.
Better correction of distortion — but only by a little bit.
Unlike the much more recent (2003) Sigma (not an especially bright lens, to say the least), clearly the Canon EF 20-35mm f/3.5-4.5 USM still has a lot to offer.
To help you gain a broader and more accurate perspective, here's a selection of DxOMark results for some other Canon-compatible wide-angle lenses:
Further readings for the Canon EF 20-35mm f/3.5-4.5 USM: an oldie but goodie
To provide photographers with a broader perspective about mobiles, lenses and cameras, here are links to articles, reviews, and analyses of photographic equipment produced by DxOMark, renown websites, magazines or blogs.
---
Lens Review
|
February 02, 2012
---
---
---
---
---
---
---