Canon EOS 5D Mark III: improving performance
Thursday April 19 2012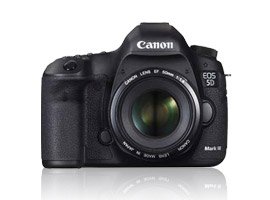 The Canon 5D Mark III is certainly one of the most anticipated cameras of 2012. Announced a couple of months ago, we finally got a production sample and tested it. Without further ado, here are our results:
Further readings for the Canon EOS 5D Mark III: improving performance
To provide photographers with a broader perspective about mobiles, lenses and cameras, here are links to articles, reviews, and analyses of photographic equipment produced by DxOMark, renown websites, magazines or blogs.
---
Comments
Ultimately it's the skill...

You can test cameras all you want, ultimately it comes down to the skill level of the user. I've been in photography over 40 years and have used Canon, Nikon, etc. my understanding of exposure, composition, etc. (the basics) is what allies me to get successful images time and time again. Use what works best for you, but perfect your craft in the brain dept.


Reply | Read all replies for this comment
First replies for this comment
---
Great Jack of all trades

I work in Nyc as a fashion photographer and I have to say the the 5d series are the most used cameras out side of medium format cameras .Ive been shooting with the mark 3 for over a year after shooting with the mark 2 for 2 years great both great cameras. You can see the shots I've taken with it for my work on my website www.brianschutzaphotography.com hope it helps!! also note I only shoot RAW format


Reply
---
Added by

guslar

| April 18 , 2013

Guess who is best sponsor for DxO...

Nikon or Canon? ;)


Reply
---
First replies for this comment
---
Added by

viktas

| November 01 , 2012

viktas

I own and use a 5Dmk3 for my studies and some of my clients for a few months now. I would have to write a sensor reading doesn't even come close to showing off this bodies attributes. Canon still have best lens choices if you can afford them, just show in raw if you might want more dynamic range or change settings in Picture Styles ( easy ). This is the fastest focusing body in this price range helping any one get the shot ( not missing it ), due to focus hesitation. Build quality is still best in class except for shutter count, Canon blew that one, but swaping out the mechanisium is always a option if you are a Professional down the line. Only because I'm able to buy one FF system did I invest in the best for most situations like a pro. I did care about just studio resolution becasue I don't have time for this in the field! The 5Dmk3 is the best in the field hands down. No hesitating focus, best lens choices and buid quality. Dxo's mark is for ametures.


Reply
---
Split Personality

DxO Labs use a scientific/unprejudiced approach to measure and evaluate camera sensor properties. Then again, they also use a tabloid way of distorting whatever their findings might be.

There's a difference between perception and assessment. Lurid presentation will attract the masses, informed audience will probably be driven away by it.

Anyway, whatever the title says, information is in the measurements instead.


Reply
---
Thank you

I'm really glad to see a major website, in such dry terms, effectively lay some smack down on the 5D Mark III. It's a minor upgrade over the Mark II and it costs $1,000 more.

That's 100% corporate arrogance coming from a company that thinks it rules the industry.


Reply | Read all replies for this comment
First replies for this comment
---
Sospechosa sensibilidad.

Estoy sorprendido por la gran diferencia de calidad que hay entre las dos cámaras. He sido usuario de nikon, de canon y ahora lo soy de sony. Está claro que el sensor de la d800 es mejor en casi todo, pero hay algo que no me cuadra dado que no tiene ningún sentido. El tamaño de los foto-captadores es muy importante a la hora de obtener poco ruido a altas sensibilidades. No es posible que la D800 arroje mejores resultados a altas sensibilidades que la canon 5D markIII. Sencillamente no me lo creo, además he visto comparativas reales en internet y ni de lejos se le acerca en sensibilidad a la canon 5D markIII. No dudo de la objetividad de la pruebas efectuadas pero no cuadra de ninguna forma los resultados. Si hay forma de explicar esto sin recurrir al tópico de que son ciclos y que la tecnología avanza hacedmelo llegar. Saludos.


Reply | Read all replies for this comment
First replies for this comment
---
I AM DXOMark !

<div id="linkdxomark">This a comment for <a href="http://www.dxomark.com/index.php/Cameras/Camera-Sensor-Database/Canon/EOS-5D-Mark-III">this page on the website</a></div>


[color=blue]Latest Photoshoot Collaboration of DXOMark and Nikon !

Enjoy:
[/color]
http://i42.tinypic.com/2q83pes.jpg

[img]http://i42.tinypic.com/2q83pes.jpg[/img]


Reply
---
Confused about the low ISO score

The print graph for SNR is almost identical to the D800 but the 5dIII is rated much lower. Also looking at picture comparisons I'm surprised to see this low number.


Reply | Read all replies for this comment
First replies for this comment
---