Canon EOS 650D: multitouch screen and hybridized autofocus
Friday June 08 2012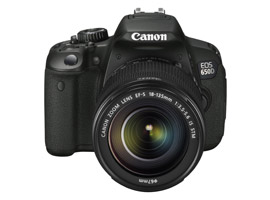 Today Cannon announced its new amateur D-SLR with the Canon EOS-650D. Despite some nice new features, this new model is not a revolution in term of sensor with a 18 MPix APS-C sensor. Before we can test how good it performs, here are our first impressions in this preview.
Further readings for the Canon EOS 650D: multitouch screen and hybridized autofocus
To provide photographers with a broader perspective about mobiles, lenses and cameras, here are links to articles, reviews, and analyses of photographic equipment produced by DxOMark, renown websites, magazines or blogs.
---
Comments
Canon Technology Lag

I might offer the guess that some years ago some bright MBA/Engineer at Canon came to the boss and said, "You know, we can do a lot of cleanup work in processing and software that will extend the life of our cameras and lenses. That way we can take a camera generation vacation on investing in R&D and upgraded production facilities and harvest profits until we simply have to change the formula." Just guessing.


Reply
---
Added by

hoodlum

| October 10 , 2012

What happened to Canon?

This is a long time in the making but how is it that the new D650 scores the exact same as the 8 year old 20D. They both get beat by the smaller sensor E-M5. I am surprised Canon owners are not complaining louder about this.

http://www.dxomark.com/index.php/Cameras/Compare-Camera-Sensors/Compare-cameras-side-by-side/(appareil1)/813%7C0/(brand)/Canon/(appareil2)/793%7C0/(brand2)/Olympus/(appareil3)/281%7C0/(brand3)/Canon

Someone else mentioned the lack of APS-C lenses. This has been an issue for both Canon and Nikon. Basically they have both focused on zooms for APS-C and forced owners to rely on FF primes to cover their needs. Unfortunately the FF focal length and aperture don't always match what you need with 1.5 crop.

m43 seems to understand the need for native lenses as they have a much better selection of primes. It will be interesting to see how much support for new APS-C lenses will exist going forward. APS-C is getting pushed from both mirrorless at one end and FF at the other end. Will Canon and Nikon come out with new APS-C lenses or will we just see refreshes with better focusing for liveview.


Reply | Read all replies for this comment
First replies for this comment
---
D650 and siblings

Sensors are now pretty damn good,have been for a long time and unless you are shooting in outrageously bad conditions they will out perform you.
I suggest that better lenses are now far more of an issue as even the best of lenses have faults and the modestly priced lenses are almost unusable on the cameras with better sensors.



Reply | Read all replies for this comment
First replies for this comment
---
Added by

mrahmo

| October 08 , 2012

does it really matter?

i have seen lots of shot from canon, Nikon and Sony, but still cannot spot the dramatic difference, so if someone have an actual link that shows the inferiority/ or excellence of these new sensors, please share

my eyes are not a measuring machine


Reply | Read all replies for this comment
First replies for this comment
---
Added by

frankmv

| August 13 , 2012

Arrogance??

I recently purchased the Canon T4I...and I shoot Nikon D7000 and the D300. My observations from the field:
Pros
1) Canon menu system is more easily navigated than Nikon's. Touch is convenient.
2) Image quality is very good for this pro-sumer camera. 18mp is more than enough, imho.
3) I really like the built-in HDR and Handheld Night shot settings...very easy to get quality results (great for beginners).
4) When shooting night-time with Bulb setting, T4I has a built-in timer...VERY convenient - neither Nikon D7000 or D300 has that feature.
5) Light; articulating LCD; live-view; Full HD video...what's not to like?

Cons:
1) 5fps (ok, maybe not a con, but both my Nikons shoot faster - 6 & 8 fps, respectively).
2) Fewer buttons than the D300 or D7000 (could be a plus depending on your perspective).
3) No secondary LCD (but I think the touch screen makes up for it, imho).

I'm sure I could come up with more pros/cons. Overall, though, I like this camera. I'm using it more and more and I'm very pleased with the results I'm getting. Would it replace my Nikons? No. But I consider the T4I a great second camera, and its ease of use makes it a great first-responder when I'm in a hurry.




Reply
---
Arrogance... or obsolescence

I agree with you, Aaron: Canon hasn't come up with any ground breaking consumer camera in years. Whether it's arrogance or just lack of know-how it's diffucult to ascertain.

Regardless, they are falling behind. They are still ahead the game due to their sheer presence, but they need to react and soon. Camera business is not what it used to be in the days of film photography. Now it is a fast moving game, and you have to keep up with a higly competitive market.

I'm an ex-Canon user already, and in the process of liquidating the last Canon lenses I still have.


Reply
---
Added by

Hakeem

| June 09 , 2012

What is your complain about D650 Aaron?

This camera is pack of features, 18MP is already huge size, and high enough for resolution if your good quality prime lenses can provide.

Hybrid AF in LiveView and Movie mode, gonna be more precise compare to CAF in m43 and other systems.

IQ: no one is aware of, so you can't complain about something you never know

Tild and swival high res LCD that touchable.

Really want to know what bothors you so much :D


Reply | Read all replies for this comment
First replies for this comment
---
Arrogance Much?

It's as though the massive success of the 5D Mark II absolutely blinded Canon with arrogance. They aren't upgrading their wide-angle lenses. They aren't expanding their APS-C selection. Their cameras haven't been competitive in nearly two years.

If I hadn't already made the choice to leave the Canon system, products like this would have made it very easy.


Reply
---