Canon PowerShot G1X, Canon's new high-end compact
Tuesday January 31 2012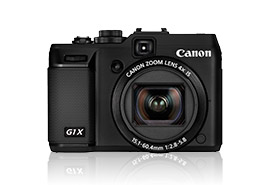 With 15 MPix on a 14.0 mm x 18.7 mm sensor in an $800 bridge camera intended for the general public, the appearance of the Canon PowerShot G1X was one of the big events at CES 2012.
We had the chance to get one of these excellent compact camera in our labs for a couple of days,so here is the Canon PowerShot G1X review.
Further readings for the Canon PowerShot G1X, Canon's new high-end compact
To provide photographers with a broader perspective about mobiles, lenses and cameras, here are links to articles, reviews, and analyses of photographic equipment produced by DxOMark, renown websites, magazines or blogs.
---
Sensor Review
|
January 31, 2012
| | |
| --- | --- |
| | With 15 MPix on a 14.0 mm x 18.7 mm sensor in an $800 bridge camera intended for the general public, the appearance of the Canon PowerShot G1X was one of the big events at CES 2012. |
---
Comments
G1X two years on

I bought this camera as soon as it was released. I wanted a quality compact to complement my DSLR, for those times when smaller is better. It has had a lot of use, travelled the world and continues to impress. Didn't want another interchangeable lens camera; didn't want to start another lens collection. Wanted a GREAT fixed lens that took the sort of pix I did. The G1X is it. Never wanted to take macro or slip it into my top pocket; don't care that it can't rattle off fps; don't at all mind the optical viewfinder. Compared to small-sensor P&S models, the G1X produces sharp, clean colourful prints and screen images. I view almost all my pix on a 24" screen and those from the G1X are DSLR quality. The Canon SX50 can't touch it for IQ, but there I go comparing dissimilar technology, which I notice happening all over the place with the G1X. So two years on, I've bought a new DSLR - the Canon 6D - and still find myself with the G1X in hand when that's the right choice. Wouldn't be without a DSLR, but would go straight out and buy another G1X


Reply
---
CanonG1X v FujiX100 series for professional photojournalism

Gadgetry and novelty aside, is there a professional photojournalist on this list who has consistently used and had accepted by any mainstream photo agency such as Alamy or Magnum images from a Canon G1X..?

Or is the IQ acceptability balance in favour of the Fuji X100 series...?

- Alexxxx


Reply | Read all replies for this comment
First replies for this comment
---
G1X

Hi,
I got one 2 months ago.
After familarizing with, I was absolutly bluffed by image quality (RAW, I never shoot JPEG), the resolution, the absence of noise.
Just two negative aspects: bulky and heavy


Reply
---
Not pocketable

To me, cameras fall into 3 categories. (1) pocketable, (2) compact, but not pocketable, (3) huge.
To me, pocketable is essential for street photography and some tourist photos. All I need do is always get the best performance camera that is still pocketable, and that inevitably means the largest in that category. The G series filled that bill for me. I have the G9 but no reason to upgrade until the G1X. I was foolish enough to let eager anticipation blind me to the fact that the G1X has crossed into the compact but not pocketable category. Well, one might as well select the camera with the best performance then. The Sony NEX 5N should be a far better choice - larger sensor, sweep panorama, macro (G1X does not do macro, whatever Canon may say), and interchangeable lens.


Reply | Read all replies for this comment
First replies for this comment
---
A "new" sensor out-dated since its birth ...

The simple fact that - in low light - Canon G1X looses to Panasonic GX1 in spite of relying on a considerably larger sensor is a clear indicator that Canon has created a brand-new camera sporting an "old" sensor.
The comparison with a last-generation m4/3 sensor will be even more humiliating for Canon when DXO Mark will have Olympus M5D test available.
Very stupid of Canon, I think: with G1X they have shown they can produce a very large-sensor compact equipped with a good, small zoom-lens. If G1X sensor (and data processing power) were "top notch", all m4/3 EVILS would be easily beaten on all terrains, except flexibility (lens interchangeability). And most users would go for G1X because most don't need interchangeable lenses when they have a nice zoom-lens. As things are, though, I would rather go for a last-generation EVF-equipped m4/3 EVIL camera: either Panasonic G3 or - with a larger budget - Olympus M5D.


Reply | Read all replies for this comment
First replies for this comment
---
Canon g1x

My macro does not seem to work on my Canon G1x. How do I test the camera?


Reply
---
comparison

The Fuji is 25% more expensive than the Canon, how are these cameras comparable? What's next, a comparison between a Canon SX130 and a Nikon D7000? Totally different beasts. I've got a preorder placed for the G1X to add to my bag as a portable, travel camera when I don't want to use my 7D. I wanted something with some type of zoom, large, high quality sensor, manual controls, hotshoe, IS, and moderately fast glass... the G1X fits the bill perfectly. Something I can stick in my jacket pocket while I travel and still get great photos. The Fuji might be great if you're fine taking shots at one focal length.. I don't think that will work well for travel.


Reply | Read all replies for this comment
First replies for this comment
---
Pricing

If this camera doesn't provide much more than compact size and DIGIC5 processing, why then the high price? It seems to sport similar (dated) sensor technology of the 7D and a cheap plastic body too?

A rebel T3i kit can be had for about $100 less. Except for the large APS wafer, I would have thought the SLR-mirror- and lens mount mechanics to form rather an expensive portion of the price of a DSLR body, or am I mistaken? I presume the glass in the G1X is no more special than that found in a standard kit lens?

I absolutely love the concept, though! IMO it makes way more sense than than a CSC! If only it were released at least $100 less, I would have bought one for Christmas if the price dropped to $600!


Reply
---
What about the Fuji X100?

You wrote that the Canon G1X is "The best compact camera ever made", but you seem to have forgotten the Fuji X100, which is less high, less deep and only slightly wider. If the G1X is to be considered a compact camera, then the Fuji also has to be.


Reply | Read all replies for this comment
First replies for this comment
---
Added by

darrask

| January 31 , 2012

GX1 is a big camera

"You have a reflex-quality sensor in camera of the same volume as a G11."
No you don't, the GX1 is much bigger than the G-series.


Reply | Read all replies for this comment
First replies for this comment
---