Canon's largest macro lens, the EF 180mm f/3.5L Macro USM
Monday June 25 2012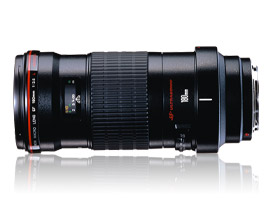 The Canon EF 180mm f/3.5L Macro USM would make a great companion for wildlife photographers – it is Canon's longest lens in its macro category. And as an added selling point, the lens performed above average in four out five DxOMark evaluation categories.
Insects beware. Someone is watching you. And it is probably a photographer with a Canon EF 180mm f/3.5L Macro USM lens.
The lens allows the most daring insect and wildlife photographers to get remarkably close to their subjects given the lens' large focal length—you can focus on targets that are just under half-a-meter away.
Canon's 180mm Macro, at more than 18cm in length and weighing a durable 1090 grams, is also the camera giant's longest and heaviest lens in its line of macros.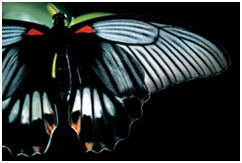 A sample image taken from the Canon EF 180mm f/3.5L Macro USM lens. Photo courtesy of Canon.
Measurements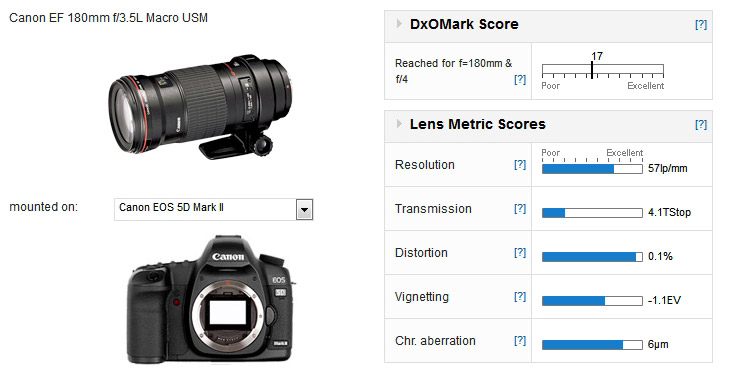 Strengths of the Canon EF 180mm f/3.5L Macro USM include:
Good resolution, with sharpness strongest at the center of images and when the aperture is lower than f/11.
Very little distortion.
Some acceptable vignetting at the widest apertures; vignetting is completely absent above f/5.6
Chromatic aberration is well controlled.
While the lens receives praise in most of DxOMark's quality evaluations, its one blemish was its brightness – its transmission score was 4.1 T-stop. This means its advertised aperture of f/3.5 is closer to f/4.1. This will make it difficult for photographers to take pictures in the dark, or in lowlight situations like at sunrise or sunset – times of the day when many species of insects and wildlife are most active.
Comparison
Canon EF 180mm f/3.5L Macro USM vs Sigma 150mm F2.8 EX DG OS HSM APO Macro Canon, and Tamron SP AF 180mm f/3.5 Di LD (IF) Macro 1:1 Canon using a Canon EOS 5D Mark II: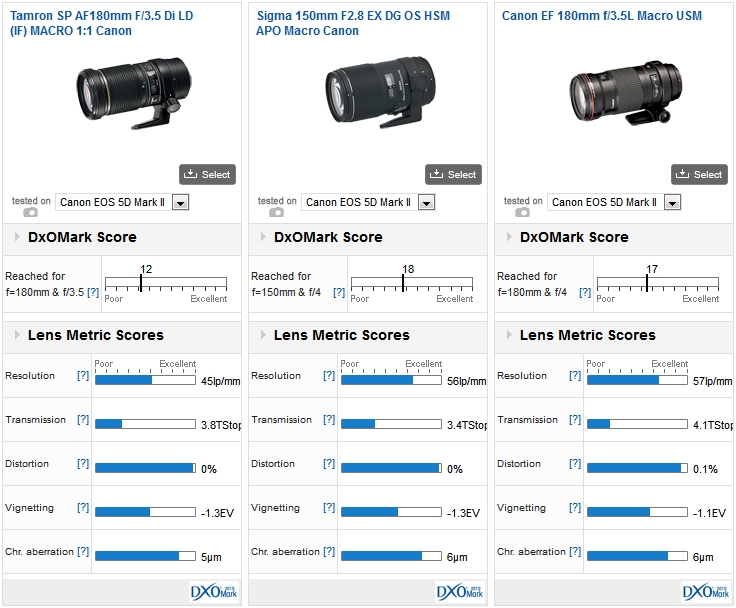 Show interactive data, found here.
Advantages of the Canon EF 180mm f/3.5L Macro USM include:
Strongest resolution of the three lenses, especially compared to the Tamron 180mm Macro.
Best controlled vignetting of the trio.
Strengths of the Tamron SP AF 180mm f/3.5 Di LD (IF) MACRO 1:1 Canon:
At 920 grams, it is the lightest lens of the bunch.
With a sales price of $690 (USD), the Tamron 180mm Macro is significantly cheaper than the Sigma 150mm Macro ($1,099) and the Canon 180mm Macro ($1,500).
Benefits of the Sigma 150mm f/2.8 EX DG OS HSM APO Macro Canon:
It has strong resolution, and trails the Canon 180mm Macro by only a single point.
The lens is the brightest of the three, with a transmission score of 3.4 T-stops.
It is the most compact lens in this comparison, measuring just 15 centimeters in length.
Conclusion
The Canon EF 180mm f/3.5L Macro USM is a solid lens that holds up well against its competition. The lens excels at controlling vignetting and chromatic aberration, and its optics do a great job at limiting distortion. It is a quality lens, especially for nature photographers, but its sticker price of about $1,500 might be out of reach for some photographers.
Further readings for the Canon's largest macro lens, the EF 180mm f/3.5L Macro USM
To provide photographers with a broader perspective about mobiles, lenses and cameras, here are links to articles, reviews, and analyses of photographic equipment produced by DxOMark, renown websites, magazines or blogs.
---