Nikon 1 J2 – All Quiet on the Eastern Front
Monday October 29 2012
Sensor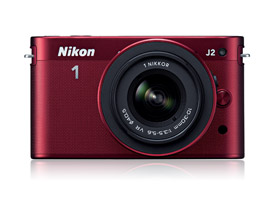 The Nikon 1 J2 retains many of the same characteristics of its older brother, the J1, including its 1", 10-Mpix CMOS sensor. Other than its new 3", 921,000-point screen, the new version of Nikon's compact hybrid puts particular emphasis on creative modes. How does the Nikon 1 J2's sensor perform with respect to its predecessor, to its direct competitors, and to expert-level hybrids and compacts? Some answers from DxOMark.
Further readings for the Nikon 1 J2 – All Quiet on the Eastern Front
To provide photographers with a broader perspective about mobiles, lenses and cameras, here are links to articles, reviews, and analyses of photographic equipment produced by DxOMark, renown websites, magazines or blogs.
---
Sensor Review
|
October 29, 2012
| | |
| --- | --- |
| | The Nikon 1 J2 retains many of the same characteristics of its older brother, the J1, including its 1", 10-Mpix CMOS sensor. Other than its new 3", 921,000-point screen, the new version of Nikon's compact hybrid puts particular emphasis on creative modes. How does the Nikon 1 J2's sensor perform with respect to its predecessor, to its direct competitors, and to expert-level hybrids and compacts? Some answers from DxOMark. |