Nikon D3200: a small camera with big features
Wednesday June 06 2012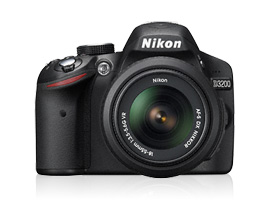 Last year Nikon endowed the D5100 with a 16Mpix CMOS sensor and an articulated screen. This year Nikon has grafted a 24Mpix high-resolution APS-C sensor onto its D3100 amateur camera to create a new version, the D3200. What kind of image quality can we expect from this entry-level camera's very high-resolution sensor? The answer can be found in our tests.
Further readings for the Nikon D3200: a small camera with big features
To provide photographers with a broader perspective about mobiles, lenses and cameras, here are links to articles, reviews, and analyses of photographic equipment produced by DxOMark, renown websites, magazines or blogs.
---
Sensor Review
|
April 20, 2012
| | |
| --- | --- |
| | We are already acquainted with the D3200: apart from a few ergonomic details, it's the same camera as the compact and lightweight D3100 SLR, though missing the secondary display on its bridge for even greater compactness. The D3200 weighs only 454 grams (without battery or card). Unlike the D3100, the D3200's lens is off-center for better balance and the highly practical LiveView/video mode activation tab of the D3100 and the D5100 has disappeared in favor of a more ergonomically mundane video recording button. The D3200 comes with a second (dorsal) infrared sensor to complement its front sensor for more practical infrared remote control. The motor selection tab (single-frame, burst, timer, remote control) is gone as well, again replaced by a direct-access button. |
---
Comments
D3200 freezes and fails to take pictures

With a new baby on the way, my wife and I sold our D40 and purchased a brand new D3200 in February of 2014.

Shortly after the unboxing we discovered that the D3200 is plagued with problems. On several occasions we have seen:
- long boot/start times (approximately 30+ seconds)
- camera is non-responsive after taking picture (approximately 30+ seconds)
- camera fails to format the memory card (error: invalid memory card)
- errors generated while recording video (recording subsequently stops)

I have gone through the troubleshooting process with SanDisk, no luck.

I have tried using 4 different memory cards, and have experienced the same issues with all of them.

I no longer have the D3200 - it has been returned to Nikon.

CONTEXT
- Nikon D3200 (purchased February 2014)
- SanDisk Extreme 64GB SDXC UHS-1 (brand new cards purchased over 4 months)

UPDATE (October 2014)

Just this week I spoke with a gentlemen who purchased a D3200 (approximately 1 month ago), and he too is experiencing the same issues.

I took 25,000 photographs with my D40, and never experienced anything like this. For the last couple of years, the D3200 has had great reviews. Does anyone know if Nikon has changed their manufacturing process?

Hopefully the D3300 is not plagued with the same issues - after all, both units are very similar.


Reply
---
Nikon D3200 best camera for beginners

i always suggest Nikon D3200 for beginners in photography or for normal use, it's simple to use, provide great image quality (large sensor + 24.2 MP + "guide mode" made by pro photographer, it's help you to use your camera, Same processor chip as the expansive D800 and much more, without forget the low price, this mean you can invest in bag and lenses and memory cards.
please note: low price don't mean it's bad camera, Nikon D3200 can be better then Canon cameras under 700$.
still not sure about what to choose between Nikon D3XXX sereis, D5XXX, D7XXX and Canon cameras, see this article http://nikond3200news.blogspot.com/2014/06/nikon-d3200-is-it-best-dslr-camera-for-beginner.html


Reply
---
Added by

cny_ap

| September 04 , 2013

confusing reviews

The D3200 has a much better DxoMark than the Canon 18mp sensors. But the D3200 looks inferior to the T5i in the T5i review (the reviewer sates so). In the "Comparometer" tool, the Nikon 5200 for example looks about the same as the T5i/700d in terms of noise versus detail retention.

Something doesn't add up...look at the "detail" shots at different ISO settings:
http://www.imaging-resource.com/PRODS/canon-t5i/canon-t5iA.HTM



Reply
---
First replies for this comment
---
Lens for D3200

Hello.
I am using this camera and very happy with it. I have kit 18-55 and Nikkor 35 1.8. And want to buy new lens which will be good for D3200`s 24MPs sensor (probably Sigma 17-50 F2.8 EX DC OS HSM). But with this camera tested not many lens and results does not make simple to predict how new lens will behave with it. For now tested:

Tamron AF 28-300mm F/3.5-6.3 XR Di VC LD Aspherical [IF] Macro Nikon
D3200 5P-Mpix
D5000 4P-Mpix this results looks ok
D7000 4P-Mpix


Tamron SP AF 70-200mm F/2.8 Di LD (IF) MACRO
D3200 5P-Mpix
D5000 4P-Mpix
D7000 9P-Mpix what? twice better sharpness?

Sigma 120-400mm F4.5-5.6 DG APO OS HSM Nikon
D3200 7P-Mpix
D5000 5P-Mpix also looks ok
D7000 6P-Mpix

So could you please test more lenses with D3200 which already has quite big audience. Especially I am will be very happy if you add tests with lenses which can replace kit lens.


Reply | Read all replies for this comment
First replies for this comment
---
Nikon D3200 -The Most Favored Digital SLR Camera

nikon d3200 is really a nice piece to work with... awesome resolution with flexibility to use with a wide variety of lenses... in case of shopping online you guys can try http://www.electronicbazaar.com.au/


Reply
---
Nikon d3200 image quality

I was wondering how could an entry level camera such as the 3200 receive the same score as a full frame (MkIII). Analyzing Your methodology of scoring, I came to the conclusion that You favor only the highest scores per criteria. For example, the 3200 has DR of 13EV and the MkIII has 12 or so. But, this happens on ISO 100. If You see the chart, pushing the sensitivity further, the results are becoming increasingly more favorable to the MkIII (they're almost equal the D800). I suggest that You integrate the results using the chart integer or obtain the average DR scores per whole ISO range and come with a score reflecting the whole ISO range. Also, if the highest ISO 100 result is of greater importance, give bonus points for that, but don't take it as an isolated result cutting off all the rest DR curve to ISO 12800. If cameras with different high ISO maximum sensitivities are compared, I think that, the curve up to ISO 6400 should be taken (all the newer cameras have ISO 6400). As for the D3200 compared to e.g. 5100, I notice that it is significantly more color blind in high ISO settings than the D5100, something that is not shown in the charts (very odd). Also, check out the red channel, it sucks completely. It is even degraded in basic ISO100 in RAW... As a conclusion, be objective and use the integrated results, not the maximum.


Reply | Read all replies for this comment
First replies for this comment
---
Typo + high scores

" On the contrary, the D3200 shows significant low-light improvement over the D3100 (with its 12 Mpix CMOS sensor), which had achieved a DxOMark low-light score of 919 ISO."

Nikon D3100 does not have a 12 Mpix sensor but a 14.2 Mpix sensor:

http://www.europe-nikon.com/en_GB/product/digital-cameras/slr/consumer/d3100

Interesting to see that D3200 and D3X score so high. They both are only mediocre in high sensitivities compared to, for example D5100 & D7000. Maybe in the end the megapixels count...


Reply
---
First replies for this comment
---
Not that good..

I unlike others prefer good colors. With metamerism index of this thing, I might aswell buy m4/3s. Nikon with this camera seems to follow Canon way of "near-color-blind" cameras. Just hope they will do some D400 with same sensor but radicaly improved CFA.

If someone likes colors, its Sony with this sensor, not Nikon. :/


Reply
---