Olympus PEN E-PM2: Entry-level hybrid gets top-of-the-line sensor
Tuesday November 20 2012
Sensor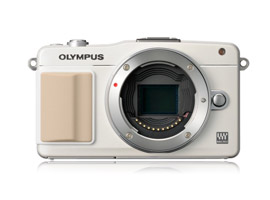 Introduced in mid September, the Olympus PEN E-PM2 is the second generation of Olympus' entry-level Micro Four Thirds hybrid camera. It sports a newly updated design with a useful, fixed grip and a touch-screen interface among other updates, but the big news is that it has inherited the sensor of the much-admired Olympus OM-D E-M5, the current top-of-the-line Micro Four Thirds camera.
Further readings for the Olympus PEN E-PM2: Entry-level hybrid gets top-of-the-line sensor
To provide photographers with a broader perspective about mobiles, lenses and cameras, here are links to articles, reviews, and analyses of photographic equipment produced by DxOMark, renown websites, magazines or blogs.
---
Sensor Review
|
November 20, 2012
| | |
| --- | --- |
| | Introduced in mid September, the Olympus PEN E-PM2 is the second generation of Olympus' entry-level Micro Four Thirds hybrid camera. It sports a newly updated design with a useful, fixed grip and a touch-screen interface among other updates, but the big news is that it has inherited the sensor of the much-admired Olympus OM-D E-M5, the current top-of-the-line Micro Four Thirds camera. |