Olympus launches the new PEN E-P3
Wednesday July 06 2011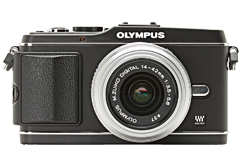 Olympus has recently launched the Pen E-P3 which is a compact, metal-body and retro-looking camera. With this offering Olympus targets the hobbyist to advanced photographer audience.
Equipped with a touch display and a 12.3 MP Live MOS Sensor and a trademark FAST AF tracking system that features 35 focus points.
The ISO can be propped up to 12,800 and it also has a fast shutter with a speed of 60 milliseconds.
Click here to see the Olympus PEN E-P3 manufacturing specifications.
The new Olympus Pen E-P3 replaces the E-P2 which has already been reviewed by DxOMark.
Click here to see the Olympus E-P2 measurements and data.
Stay tuned for the upcoming reviews of the Olympus PEN EP3 here on DxOMark.
Further readings for the Olympus launches the new PEN E-P3
To provide photographers with a broader perspective about mobiles, lenses and cameras, here are links to articles, reviews, and analyses of photographic equipment produced by DxOMark, renown websites, magazines or blogs.
---
---