Panasonic Leica Summilux DG 25mm f/1.4, the equivalent of a 50mm f/1.4 lens for micro 4/3 cameras
Wednesday February 22 2012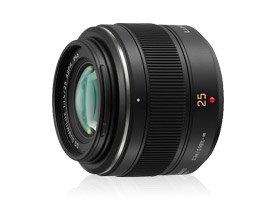 A relatively recent arrival on the photography market, Panasonic has rather limited experience in the field and does not yet have the same name recognition and reputation as its principal rivals and partners (starting with Olympus).
To add some gravitas to its line of high-end lenses, Panasonic had the very good idea to team up with one of the most experienced and reputable lens manufacturers in the field (in terms of image quality), Leica. This arrangement is similar to the one for Sony cameras and their high-end Carl Zeiss-signed lenses.
But keep in mind that we're not talking about manufacturing here: just as with Zeiss for Sony, Leica retains the design and the production process — with Panasonic taking care of the rest.
So, let's see how this lens performs:
Further readings for the Panasonic Leica Summilux DG 25mm f/1.4, the equivalent of a 50mm f/1.4 lens for micro 4/3 cameras
To provide photographers with a broader perspective about mobiles, lenses and cameras, here are links to articles, reviews, and analyses of photographic equipment produced by DxOMark, renown websites, magazines or blogs.
---
Comments
dont like this lens

This lens is too wide for full body portrait and distortion makes it also not very good for head-shoulder, or full head or even face only portrait photography.


Reply
---
Added by

mkln

| February 25 , 2012

it's not

50 f/1.4 equivalent. it's not. it's probably more like 50 f/2.8 equivalent.
I wish I could use my canon 85/1.2 in a crop body and think of it as a 135/1.2 equivalent.


Reply | Read all replies for this comment
First replies for this comment
---
Re: it's not

Your comment makes no sense. An f1.4 lens is f1.4 regardless of crop factor, in terms of the brightness. It will have a depth of field like an f2.8 lens on full-frame.

Either way the same rule would apply to your 85mm f1.2. It'd be like a 170mm on micro 4/3, f1.2 brightness and depth of field like an f2.8

Olympus have announced a 75mm f1.8 for m43, coming later in the year. Will be much smaller than the Canon of course.


Reply
---