Ricoh introduces an M mount-compatible module for its GXR system
Wednesday August 10 2011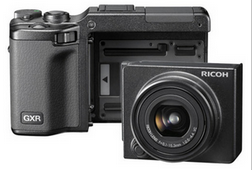 The M-mount originally introduced with the Leica M3 camera in 1954 is not subject to intellectual property laws as Leica no longer holds the patent.
Since this date more than 35 Leica-branded M-mount lenses have been produced, along with the offerings of several companies that have also conformed to this format such as:
Elcan, Konica, Minolta, Voigtländer, Rollei and Carl Zeiss
When talking film-photography some cameras other than Leica are compatible with the M-mount; however in the digital photography world so far only Leica cameras have continued using this legacy approach.
Now Ricoh has launched a new module that is compatible with the more than 80 M-mount lenses ever launched and here are some of its specs:
This module, dubbed "A12" belongs to the GXR category (GXR Interchangeable Unit Camera System)
With this system it is possible to 'replace' the core of a camera or the place where its sensor is embedded.
The sensor is an APS-C-sized CMOS that measures 23.6mm x 15.7mm
It is bound to have in-house distortion correction capabilities on both barrel and pincushion and the user will be able to specify the strength of such corrections
While not having an optical or EVF it will be possible to magnify the screen image by 4x and 8x in order to help focus the lens
It features two shutter methods: a "newly developed focal plane shutter" and an electronic shutter
Manual exposure with B (bulb) and T (time) modes.
1280 x 720 pixel video capabilities
Approximately 12.3 effective megapixels
The Ricoh GXR A12 Mount is expected to launch on September 9th.