SONY SLT-A57: Sensor review
Wednesday June 06 2012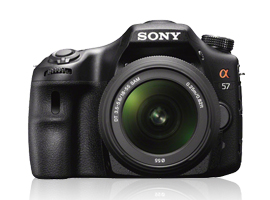 We've put the Sony SLT-A57, a digital SLR with electronic viewfinder that incorporates a well-known 16Mpix CMOS ASP-C sensor, through its paces at DxOMark. What progress can we expect? How does it compare with its competitors, both reflex and hybrids? Here are our results.
Further readings for the SONY SLT-A57: Sensor review
To provide photographers with a broader perspective about mobiles, lenses and cameras, here are links to articles, reviews, and analyses of photographic equipment produced by DxOMark, renown websites, magazines or blogs.
---
Sensor Review
|
March 19, 2012
---
Comments
Comparison with Nikon D5100

When I compare Nikon D5100 here with A57, is the Nikon much better. But in comparison on dpreview.com is better A57. Much better in DR and even a little better in ISO performance. Samples from dpreview by ISO 6400 A 67 are nice. What to hell is true now? I decide btw. this two cameras. Which one should i buy?


Reply
---
can't believe..

iso test.

A77 801
a57 785

sorry but from 800 to 3200 iso a57 is bettere than a77.
saw with my eyes compared crop from raw file...



Reply
---
Sony A57

I would have liked an OLED viewfinder more than a bigger and heavier body. At least the flash delay has been reduced.


Reply
---