Samyang 35mm f/1.4 AS UMC Canon: Affordable everyday lens
Friday July 06 2012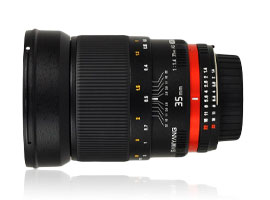 Samyang's 35mm f/1.4 AS UMC for Canon would make a quality lens for photographers who have a knack for manually focusing their images. The lens excludes an autofocus system, which helps bring down its price by hundreds of dollars.
South Korean optics company Samyang has been stepping out of the shadows cast by its larger Japanese rivals like Nikon and Canon. It has produced a number of lenses in recent years that have been receiving attention for their affordability and improving quality, including the Samyang 35mm f/1.4 AS UMC Canon, which was released in 2011.
Samyang's 35mm f/1.4 AS UMC for Canon is a simplistic lens – not too wide like a 24mm, and not too restricting like the 50mm – that is great for everyday shooting, especially environmental portraits and architectural-oriented photography.
But this lens is not for everyone, especially photographers who don't trust their eyes to take sharp pictures – the lens does not have an embedded autofocus system.
Measurements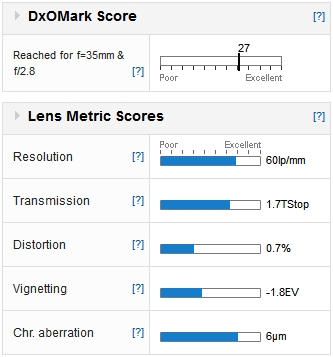 During DxOMark tests and analysis, we determined the lens' strengths were:
Good resolution, especially between apertures f/2.8–f/11.
Controlling chromatic aberration – an effect that creates color fringing, especially at edges where dark and bright contrast meet.
Brightness. The lens received a transmission rating of 1.7 T-stop, meaning its aperture is closer to f/1.7. This will give photographers a lot of flexibility in lowlight environments, and the ability to shoot with a very shallow depth of field.
The lens' weaknesses include:
Distortion was strong, measuring 0.7%.
Vignetting, especially at the widest apertures of f/2.8 and below.
Comparison
Samyang 35mm F1.4 AS UMC Canon Vs Canon EF 35mm f/1.4L USM mounted on the Canon EOS 5D Mark II:
Benefits of the Samyang 35mm f/1.4 AS UMC for Canon include:
Stronger sharpness than the Canon EF 35mm f/1.4L USM, even at aperture f/1.4.
Sharpness and resolution is more consistent across an entire image, and at more apertures.
Vignetting is better controlled on the Samyang 35mm, although the difference is less than 0.2 EV, and would probably not be noticeable on a final RGB image.
Chromatic aberration is also slightly better controlled on this lens.
The value of the lens is a bargain at just under $600 (USD). This is more than $800 cheaper than the Canon 35mm.
Perks of the Canon EF 35mm f/1.4L USM include:
Brighter lens, measuring an additional 0.17 EV over the Samyang 35mm.
Distortion in this lens is better controlled.
Autofocus, which is absent in the Samyang 35mm, is embedded into Canon's 35 mm lens.
Conclusion
Samyang's 35mm f/1.4 AS UMC for Canon is a quality lens – excelling at producing bright images with strong resolution – that can be purchased at an affordable price. But this affordability comes at the expense of no autofocus, so photographers who rely on AF lenses should consider alternatives.
Further readings for the Samyang 35mm f/1.4 AS UMC Canon: Affordable everyday lens
To provide photographers with a broader perspective about mobiles, lenses and cameras, here are links to articles, reviews, and analyses of photographic equipment produced by DxOMark, renown websites, magazines or blogs.
---
Comments
First replies for this comment
---
Re: Wowser

I am new to this site/ forum.
Could you help me. I want to know, how does someone start a new discussion/ thread.
Thanks


Reply
---