Sigma's new wide-angle zoom bests sibling
Thursday June 14 2012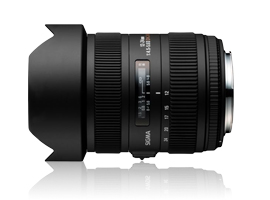 Sigma's new 12-24mm f/4.5-5.6 EX DG HSM II Nikon made some gains over its predecessor, including a dramatic improvement with tapping down chromatic aberration. But the lens also stumbled, regressing in our lens distortion category.
Sigma is advertising its super wide-angle zoom lens – the 12-24mm f/4.5-5.6 EX II DG HSM – as capable of producing images with an approximate range of 122° to 84°.
With numbers like that, it would be a perfect companion for landscape and architecture photographers.
But how good are the optics found in the 12-24mm f/4.5-5.6 EX DG HSM II lens for Nikon cameras? (Here are our results for the lens when combined with a Canon).
Sigma 12-24mm f/4.5-5.6 EX DG HSM II Nikon: Test results
Sigma praised the revised optics of its new wide-angle lens, which it said combines one SLD (special low dispersion) glass, and four FLD ("F" low dispersion) glasses. Sigma said this new optics system will help reduce chromatic aberration, especially compared to the previous generation – the Sigma 12-24mm f/4.5-5.6 EX DG.
This improvement in chromatic aberration was dramatically documented in our lab testing and analysis, where we found the EX DG HSM II made a huge leap over the EX DG. The EX DG HSM II's reduction in color aberration was most striking at focal lengths 18 to 24 mm. At 24 mm, chromatic aberration was not even detectable.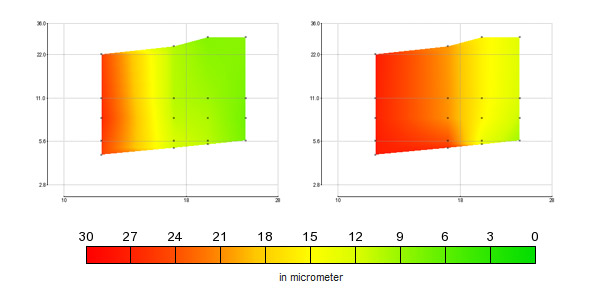 A side-by-side comparison of chromatic aberration between the Sigma 12-24mm f/4.5-5.6 EX DG, left, and the Sigma 12-24mm f/4.5-5.6 EX DG HSM II (for Nikon D3X).
Our testing found additional strengths for the EX DG HSM II for Nikon, including:
Good resolution that is comparable to its older sibling. Lens resolution hit its sweet spot when the aperture was between f/4.5-5.6. In this range, it had good resolution at nearly all focal lengths.
The EX DG HSM II for Nikon did have a few big blemishes:
Its distortion actually regressed, rather than improved, against the older EX DG. Distortion was high at its widest focal point of 12mm, but was detectable even past 18mm.
The EX DG HSM II still produced strong vignetting, especially at apertures between f/4.5-8.
Like the EX DG, the newer lens also suffered from low transmission, resulting in a transmission score of 5.8 T-stop.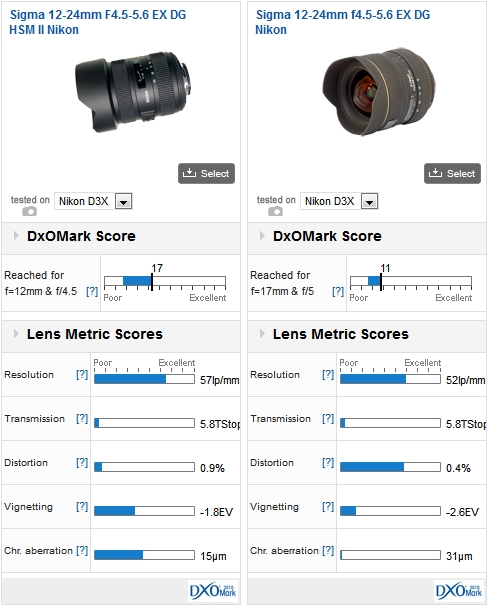 The EX DG HSM II's mixed results gave it a DxOMark score of 17 – an improvement from its predecessors overall rating of 11. Still, both scores are pretty low. If you're deciding between the two lenses, the tiebreak might come down to price. At $1,400 (US), the EX DG HSM II costs $500 more than the EX DG.
Further readings for the Sigma's new wide-angle zoom bests sibling
To provide photographers with a broader perspective about mobiles, lenses and cameras, here are links to articles, reviews, and analyses of photographic equipment produced by DxOMark, renown websites, magazines or blogs.
---
Lens Review
|
December 06, 2011
| | |
| --- | --- |
| | This new Sigma 12-24mm EX DG HSM II wide-angle zoom for full-frame cameras is a somewhat improved version of the previous lens, the solidly-built Sigma 12-24mm F4.5-5.6 EX DG Canon. |
---
Lens Review
|
July 06, 2011
While we wait for the full analysis of the new wide angle by Sigma (Sigma 12-24mm F4.5-5.6 EX DG HSM II Canon and Nikon mounts), here are the results for its previous version, mounted on Canon and Nikon cameras.

Of all the lenses tested so far (43) on a Canon EOS 5D Mk II this lens ranks as the lowest ever.
 Let's take a look at the measurements.
---