Sony NEX 5-R: A new Sony NEX-5N?
Thursday November 08 2012
Sensor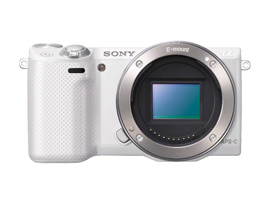 Announced at IFA 2012, Sony's NEX-5R (2938) is the third version of its very popular NEX-5 (1358) camera. This new model features a 16-megapixel APS-C EXMOR sensor composed of photosites that provide autofocusing by phase detection. Has Sony improved the image quality of its latest mid-range compact hybrid? Our tests reveal the answer.
Further readings for the Sony NEX 5-R: A new Sony NEX-5N?
To provide photographers with a broader perspective about mobiles, lenses and cameras, here are links to articles, reviews, and analyses of photographic equipment produced by DxOMark, renown websites, magazines or blogs.
---
Sensor Review
|
November 08, 2012
| | |
| --- | --- |
| | Announced at IFA 2012, Sony's NEX-5R is the third version of its very popular NEX-5 camera. This new model features a 16-megapixel APS-C EXMOR sensor composed of photosites that provide autofocusing by phase detection. Has Sony improved the image quality of its latest mid-range compact hybrid? Our tests reveal the answer. |