Sony NEX-F3
Thursday October 04 2012
Sensor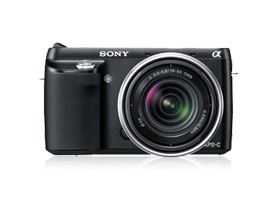 The NEX-F3 is one of three Sony mirrorless camera models released in 2012, and it's the company's eighth since the launch of the NEX line in 2010. The NEX-F3 borrows heavily from higher-end models, but also taps much of the technology found in its predecessor. So is there any big evolution in sensor quality for the NEX-F3? Or were most of the changes to the camera cosmetic? DxOMark has some answers.
Further readings for the Sony NEX-F3
To provide photographers with a broader perspective about mobiles, lenses and cameras, here are links to articles, reviews, and analyses of photographic equipment produced by DxOMark, renown websites, magazines or blogs.
---
Sensor Review
|
October 04, 2012
| | |
| --- | --- |
| | The NEX-F3 is one of three Sony mirrorless camera models released in 2012, and it's the company's eighth since the launch of the NEX line in 2010. The NEX-F3 borrows heavily from higher-end models, but also taps much of the technology found in its predecessor. So is there any big evolution in sensor quality for the NEX-F3? Or were most of the changes to the camera cosmetic? DxOMark has some answers. |