Sony launches the NEX-C3: a compact camera with a large sensor
Wednesday July 06 2011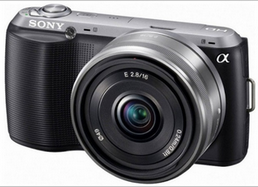 As you may already know, this latest edition in the NEX series is a compact camera with a newly-developed APS-C 16.2-megapixel sensor, at a size normally destined for DSLRs.
What makes this camera special is that its large sensor is housed in one of the smallest bodies on the market.
With this mirror-less interchangeable-lens camera, Sony brings very good news to those who are looking for a compact that performs more like a DSLR in terms of image quality.
With this launch, it seems that Sony is adding an extra rung on the "consumer to pro-sumer" ladder as some may skip buying a DSLR altogether, preferring to remain on the compact side while enjoying DSLR-quality images.
The NEX-C3 is offered as a kit that comes with a 18-55mm E-mount lens.
Stay tuned for the upcoming image quality review for the NEX-C3 on DxOMark! Meanwhile, take a moment to read the reviews for the Sony NEX 5 and NEX 3 (Sony's previous NEX offerings), along with our previous article about the sensor technology of APS-C-equipped cameras.
Further readings for the Sony launches the NEX-C3: a compact camera with a large sensor
To provide photographers with a broader perspective about mobiles, lenses and cameras, here are links to articles, reviews, and analyses of photographic equipment produced by DxOMark, renown websites, magazines or blogs.
---
With the new data for the sony A580, DxOMark team provides an in depth benchmark of the latest APS-C sensors.
The review is available here.
---
Sensor Review
|
July 01, 2010
The new Sony NEX cameras feature one of Sony's latest APS-C sensors. Our DxOMark measurements show that the NEX sensor seems very similar to the one found in the Sony A450.

Test results support Sony's assertion that this new camera category (mirrorless with interchangable lenses, sometimes referred to "EVIL" for "Electronic Viewfinder with Interchangable Lens") provides "DSLR image quality in a compact camera."
---
Comments
NEX-C3 Score lower than other cameras using the same sensor

The Sony NEX-C3 score lower than other cameras using the same sensor, e.g., Nikon D7000, Nikon D5100 and the Pentax K-5. Sony has some ways to go before it can compete with Nikon, Canon and Pentax.


Reply | Read all replies for this comment
First replies for this comment
---