The Olympus M. Zuiko Digital ED 12mm f/2.0: A first high-end micro 4.3 lens
Wednesday February 15 2012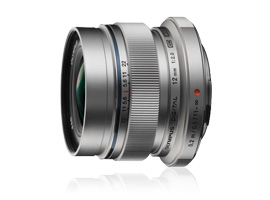 DxOMark continues with its series of reviews of micro 4/3 lenses.
Following our review of Panasonic's very good kit lens, we present here the results for a bright wide-angle lens — the Olympus M. Zuiko Digital ED 12mm f/2.0, announced in June 2011 and on the market now for several months. This 12mm wide-angle lens is the equivalent of a 24mm 24x36; its design is upscale, all-metal and with a very pleasant grip. This lens has another nice feature in terms of handling — users can quickly activate the manual control simply by sliding the focus ring toward the camera.
In the micro 4/3 world, this is a lens that is clearly aimed at serious and expert photographers, thus giving DxOMark an opportunity to take a closer look at the capabilities of these lenses specifically designed for 4/3 cameras.
Four-thirds cameras (and notably the Panasonic GH2) have sensors with a very small pixel pitch — in fact, 16Mpix on a 4/3 sensor means pixels that are only 3.75 µm! This very small pixel pitch likewise means that the Zuiko and Panasonic lenses will have to have excellent resolution to take full advantage of this type of 16-Mpix sensor.
Further readings for the The Olympus M. Zuiko Digital ED 12mm f/2.0: A first high-end micro 4.3 lens
To provide photographers with a broader perspective about mobiles, lenses and cameras, here are links to articles, reviews, and analyses of photographic equipment produced by DxOMark, renown websites, magazines or blogs.
---
Comments
Something wrong on this page

This lens gets 5MPx on this body, 11Mpx on another 16MPx body. Appears to me that this page has a bad test of this lens.


Reply
---